Global businesses today recognize it is critical to establish and maintain a competitive IT strategy. Disruptive change and business transformation have impacted market developments, become key factors in business sustainability and overall competitive landscape, and affected entire industries – and these transformations are often driven by technology.
DataArt Technology Consulting provides clients with the latest technology innovations to unleash their business potential and help them develop a comprehensive company-wide IT strategy. With our holistic view of technology, business and processes, we help global organizations across multiple industries move faster and work better. Our experience spans multiple disciplines, technology stacks, and approaches.
Cloud Services
As a critical enabler of business agility, cost efficiency, and rapid innovation, cloud has transformed the way companies deploy technology to deliver value to their customers. Whether your cloud transformation is well underway, or you have yet to get started, DataArt is your trusted technology partner that will guide and support you in your cloud journey.
DataArt has hundreds of certified cloud experts and maintains active partnerships with all major cloud providers, including Amazon Web Services, Microsoft Azure, and Google Cloud Platform. Using our vendor-agnostic approach and deep technical expertise, we will help you design and implement a cloud strategy to achieve critical outcomes for your business.
DataArt's Cloud Services:
Assessment and planning
Migration
Application modernization
Cloud-native development
Assessment and planning
Your transition to the cloud operating model starts with a comprehensive assessment of your infrastructure, applications, and processes. We will work with you to carefully analyze IT estate and your business objectives, and plan your journey to the cloud that is aligned with your most urgent business priorities and organizational capabilities.
Migration
Some of your applications may be simply re-hosted on the cloud infrastructure, without any changes to the application code. This strategy may benefit organizations that need to migrate legacy workloads out of their data centers to meet a specific deadline, or just want to get to the cloud quickly in the least complex manner.
While the lift-and-shift approach does not unlock the deeper capabilities, cost efficiency, and value of the cloud, it can be a first step in the cloud transformation journey followed by gradual optimization of the applications and deeper utilization of cloud-native services.
Application modernization (Re-engineering)
Reengineering involves deeper changes to the application architecture and code, e.g. transforming a monolithic application into a microservices (or serverless) architecture to enable its further evolution over time and/or ease its' integration with other systems. This approach enables deeper integration with cloud-native capabilities and services and helps maximize flexibility, agility, and scalability.
Cloud-native development
Systems that take full advantage of the capabilities of the cloud achieve optimal scalability, cost efficiency, and agility (ability to be changed quickly to test ideas and respond to opportunities). Cloud-native solutions are usually built as microservices, either packaged in containers or using serverless architectures, and managed through agile DevOps processes and continuous delivery workflows.
DataArt designs and delivers cloud-native solutions that achieve critical business outcomes for our clients. In the process, we also help upskill their in-house teams by introducing cloud-specific competencies, modern DevOps automation and tooling, and technical best practices.
Partnerships
AWS: Advanced Consulting Partner
Azure: Gold Cloud Platform Competency
GCP: Reseller and Service Partner
Other technologies
Docker: World standard for deploying and operating containerized workloads
Kubernetes: DataArt are experts at the leading container orchestration technology, with dozens of Certified Kubernetes Administrators
Convoy
OpenShift
OpenStack
Data and Analytics
Data-driven insight is an unmatched differentiator in business today. Companies that capitalize on collected data gain a deeper understanding of customers, markets, and operations, which ultimately drives productivity, enhances the customer experience, and leads to unrivaled growth.
For a typical Fortune 1000 company, a mere 10% increase in data accessibility will result in over $65 million of additional net income. Richard Joyce, Senior Analyst at Forrester.
Data-driven organizations are 23 times more likely to acquire customers, six times as likely to retain those customers, and 19 times as likely to be profitable as a result. McKinsey Global Institute.
A 2017 Forrester report reveals that insight-driven companies are growing at an average of more than 30% annually–eight times faster than the global GDP.
Capturing data and harnessing its benefits places a new level of demands on businesses' data and analytics capabilities. DataArt helps clients outperform competitors by building modern data analytics architectures, by helping to evolve an insight-driven organization through data management and Agile BI systems and practices, and by enabling AI, machine learning and data science.
Our Solutions and Services
Building Modern Data Analytics Architectures
Enabling an insights-driven organization
Data Management
Agile Business Intelligence
Enabling AI, Machine Learning, and Data Science
Building Modern Data Analytics Architectures
The evolution of big data and cloud technologies, as well as an increase in business engagement with data and analytics, has brought a significant shift in the design principles of modern data analytics architectures. DataArt helps build architectures that have a flexible, modular structure, enabling components to evolve at the speed of business. Such platforms enable real-time and batch processing, support secure data management and governance, scale on demand, and bill only for the resources used.
Deliverables for clients:
Through the design and construction of modern data analytics architecture solutions, DataArt delivers:
A modular and flexible data analytics foundation that evolves with business needs
Future-proof architecture that will accommodate new data sources and downstream applications and uses
A move from historical reporting to predictive and prescriptive analytics
The capabilities for digital transformation and business agility
A move to self-service and the Citizen X (integrator, data scientist, etc.)
Reduced costs and accelerated change in data architecture and analytics using next-generation cloud technologies
Democratized data, business intelligence, and advanced analytics through business-driven data sharing, lineage, quality, security, and governance
Greater responsiveness to line-of-business (LOB) users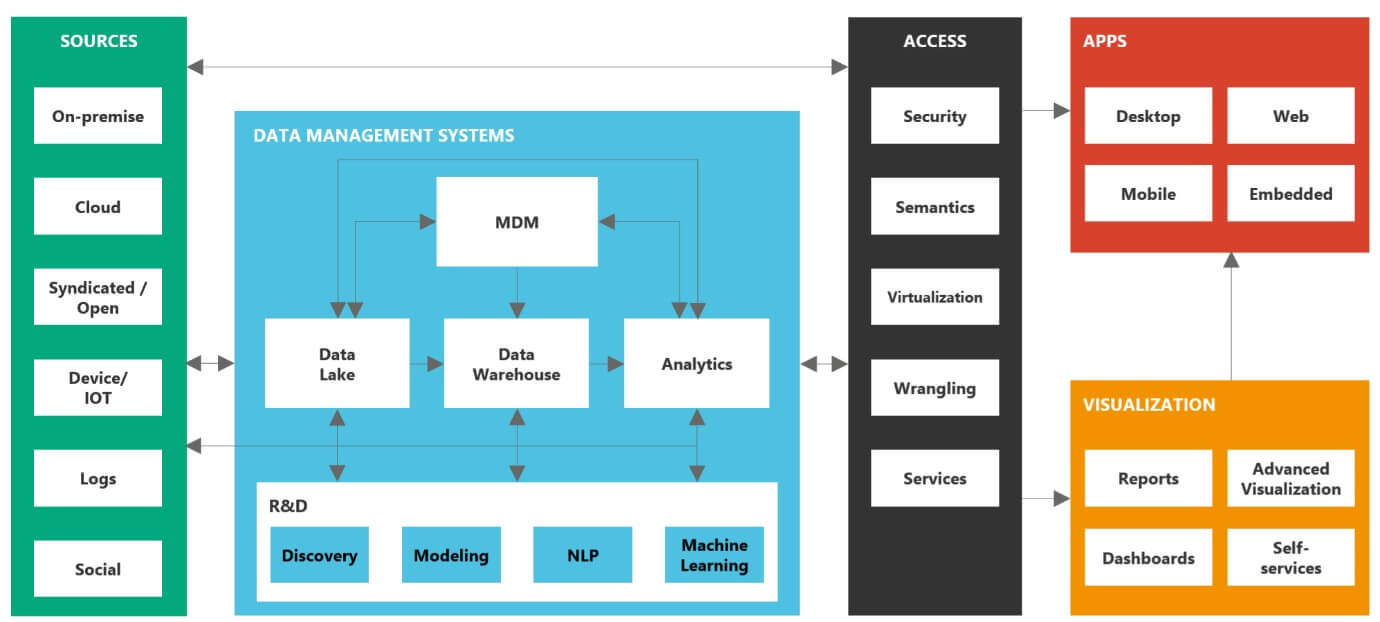 Services
Modern Data Architecture Design and Delivery
Data Analytics Implementation
Skills and Expertise
To plan and construct high-quality data analytics solutions, DataArt harnesses specialist skills like:
Data Integration and Data Engineering
Data Warehousing, Data Lakes and EDW Automation
Big Data Analytics, Real-time, Graph Data Analytics
Data Governance, Lineage, Metadata Management
Data Visualization, BI, Reporting
Data Science and Machine Learning
Data Distribution, API Data Delivery
Master and Reference Data Management, Semantic Data
AI-Infused Applications
Partnerships
Enabling insight-driven organization
To make actionable intelligence possible, companies have to design data architectures and processes that ensure transparency, reliability, and accessibility, while also enabling direct real-time interaction with data by business users. DataArt helps to establish a modern data management foundation and Agile self-service BI by building business-focused POCs and gradually evolving the data analytics platform and processes.
Data Management
DataArt helps organizations reach the following objectives:
Achieve high data quality by establishing robust data quality management and integration practices
Define a practical value-driven and business-led data governance framework to support data quality, security, modeling, and integration
Improve transparency and trust in data and increase data management efficiency with data lineage and metadata management
Make data and analytics easily accessible to a wide range of business users and drive user engagement with those data systems
Ensure successful delivery of high-priority business-use cases while simultaneously evolving the data architecture and operating model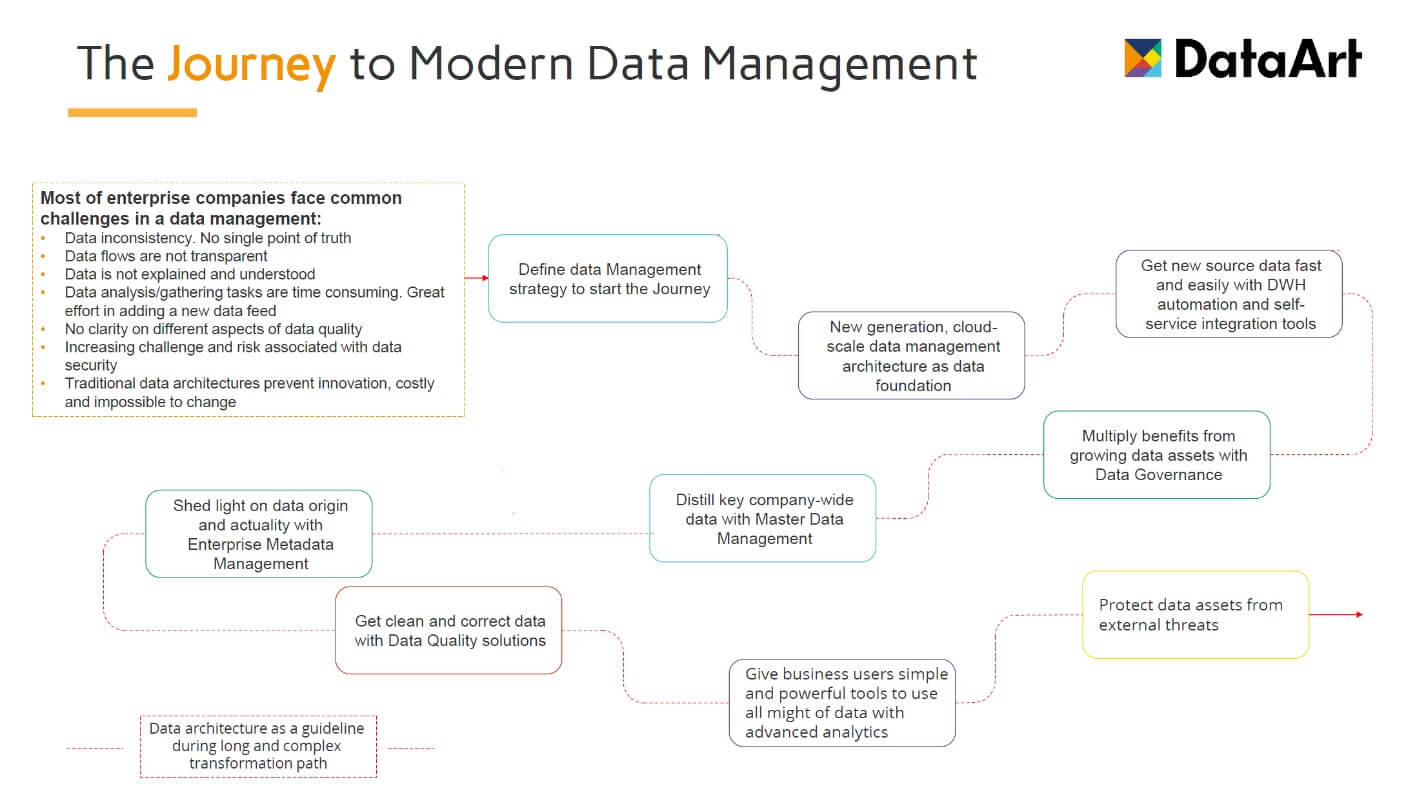 Services
To achieve these goals, DataArt provides the following consulting services:
Data strategy consulting
Data landscape profiling
Analysis and prioritization of data and analytics pain points and business scenarios
Solution roadmap definition–architecture and operating model evolution, POC funnel, business case delivery
Capability assessment, target state envisioning, solution design, technology and tools selection and implementation in:

Data governance and quality management
Metadata management and data lineage
Data modeling and integration
Data architecture and storage
Data security
Data warehousing and reporting
Business Intelligence and Advanced Analytics
Master and reference data management
Graph and semantic data
Data distribution and data products
Agile Business Intelligence
The transition to an insight-driven business depends on democratized, quick, and easy access to data, business intelligence, and analytics. Giving a wide range of business users the ability to glean insights from data leads to a better understanding of customers, markets, and operations, and enhances the ability of a business to respond to change rapidly.
When designing and building Agile BI solutions, DataArt aims to:
Augment traditional standardized Data Warehouse (DW) and Business Intelligence (BI) workloads with self-service BI. This allows business users to efficiently source data and explore its value by building analytical models or visualizations in a matter of minutes or hours.
Analyze and select self-service BI or analytics toolsets that fit each individual business (e.g., visualization/dashboarding, comprehensive calculation modeling, or supercharged ML-powered analytics).
Integrate BI with data lineage and metadata management foundations to provide an in-context understanding of the data, along with its flow and semantic and quality characteristics.
Streamline the transition from exploration by business users to rapid prototyping/proof-of-concept (PoC) creation by a central BI or data analytics team.
Establish BI governance, usage monitoring, and analytics to continuously curate, rationalize, standardize, optimize, and control business-use case implementations that proved value.
Embed and automate BI and analytics into line-of-business systems and business processes to seamlessly deliver contextual and actionable insights.
Employ usage monitoring and analytics to capture Agile BI value metrics, thereby supporting the understanding, recognition, and continuation of organizational change.
Design a practical data security framework for this era of accessible BI
Enabling AI, ML, and Data Science
DataArt helps companies adopt machine learning (ML), predictive analytics, and Data Science to achieve their goals while ensuring data privacy, model explainability, regulatory and compliance requirements, and operational excellence.
A key organizational barrier to enabling ML and Data Science is the lack of internal expertise and talent. DataArt fills this gap by providing short-term data science experts who can make sustainable, long-term changes by:
Selecting and adopting ML tools and data platforms
Designing and adopting a data science process that combines learning strategies with practical business case exploration and implementation
Open Source
DataArt is an active member of the Open Source ecosystem. We know how to select the best-of-breed Open Source systems, components and frameworks and integrate them into a solution that solves your business problems. We can help you assess an Open Source stack, evaluate options and make the most informed decision, while our legal advisors help you navigate the variety of Open Source licenses.
At DataArt we put business first. We prototype solutions with technology that allows the client to move faster. We help companies turn ideas into proof of concepts and select the technology stack that is right for the task.
We like to work with:
Minimal viable product development (MVP).
Migrating relational data sources to modern key-value storages such as Riak and Cassandra.
Performance optimization through decomposition into micro services.
Reactive design.
High performance caching.
DataArt maintains the following Open Source projects:
DeviceHive — Internet of Things (IoT) Device Management and Data Platform.
Atlas Framework — the Atlas Framework is a comprehensive set of .NET development infrastructure tools designed to jump-start projects and accelerate the delivery of business functionality in the cloud by up to 24 weeks.
TSA — an open sourse platform for developing trading solutions.