Vulnerability Assessment Services
Why Security Assessments Are Essential
Nearly every product deals with critical enterprise data or sensitive personal information such as credit card numbers, social security numbers, private social user data or commercial secrets. A major flaw in a system or application can expose this protected information to a malicious hacker, resulting in financial damage, loss of reputation and disruption to business functions.
What's more, in highly regulated industries like finance, healthcare or the public sector, ensuring the safety of your product is a principal requirement outlined in standards and regulations, including ISO 27001, PCI DSS, HIPAA, CCHIT and many other mandatory standards. Complying with these is essential for every player in those industries.
DataArt Security Services
DataArt offers its clients a vulnerability assessment service, which is a comprehensive evaluation of a system for exposed vulnerabilities without their direct exploitation. Cost effective, regular vulnerability assessments can be a useful tool in staying up-to-date when it comes to security.
An application-level vulnerability assessment is a perfect fit for products during the late development stages before they reach production. It can be effectively completed in a test environment and help to make your product secure in time for release. For released applications, both vulnerability assessments and penetration testing can help ensure maximum security at all times.
DataArt performs vulnerability assessments in accordance with "best-in-class" practices as defined by ISECOM's Open Source Security Testing Methodology Manual (OSSTMM) and the Open Web Application Security Project (OWASP). Our experts use both automated tools and manual techniques to identify vulnerabilities that threaten to compromise the security of sensitive information protected by a client's infrastructure, policies and processes.
As a result of the assessment, DataArt provides a comprehensive report containing identified risks, security weaknesses and misconfigurations as well as specific, actionable steps to eliminate identified vulnerabilities and improve overall security.
Service Highlights
Vulnerability assessment can help:
identify security issues before they can be exploited;
improve productivity by avoiding application downtime;
protect the integrity and confidentiality of sensitive enterprise data;
ensure security in time for product release.
By taking preventive measures, you can ultimately save thousands of dollars in losses from compromised reputation, reduced customer confidence, business disruptions, lost productivity and more.
Typical Workflow
The workflow for vulnerability assessment involves the following stages: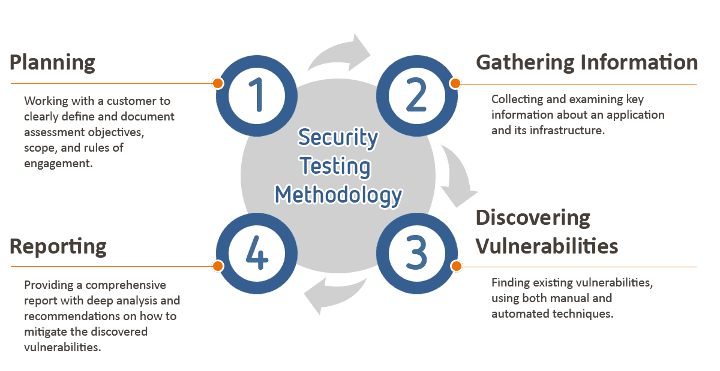 The workflow is very similar to penetration testing, with the major difference concerning the process of discovering vulnerabilities. While penetration testing is a real world attack simulation, during vulnerability assessment our experts do not exploit any of the vulnerabilities found. The DataArt team uses both automated tools and manual techniques only to discover existing vulnerabilities.