Penetration Testing Services
Penetration testing (also known as pentest) is a controlled process that simulates a real-world attack from malicious users and/or external attackers. It aims to spot the company's security flaws and evaluate the potential influence of these attacks on an organization's business operations.
Why Do You Need Testing?
Cyber security penetration testing provides your company with an opportunity to uncover vulnerabilities that put your main business assets at risk.
Your Business is a/An:
Startup
Young startups that work with other businesses are usually asked if a penetration test has been performed since it is important for their clients to analyze and measure the security level of services provided by a startup.
Midsize company
Midsize companies usually work hard to expand their businesses so whenever a significant change is made to a company's environment, security testing services are required. security testing services are required.
Enterprise
Large enterprise companies typically adopt penetration testing programs to avoid potential financial and reputational losses in a case of a data breach, which would be enormous or sometimes even fatal for a business.
Put Your System to a Penetration Test
In all these cases, software penetration testing is a valuable measure to find security breaches before an attacker can exploit them. Possible examples of the business impact from such an attack could include theft of sensitive information, unauthorized utilization of server resources, or compromise of the company's internal infrastructure using the vulnerable application as a gateway.
What Kind of Penetration Test Do You Need?
Penetration testing is designed to help you assess the effectiveness level of your security teams. We try to identify possible security issues that can lead to the leak of sensitive information or a case when a malicious user, without appropriate permissions, could get access to sensitive information. Our activities fall into one of the following categories:
Black box penetration testing
This is a classic case of checking a company's security posture by emulating an external attacker who is trying to get unauthorized access to the system. Other activities include attempts to interfere with application users or impact the system in another negative way.
Grey box penetration testing
In this scenario, an engagement that allows a higher level of access and increased internal knowledge is taking place. This test simulates an attacker that has already some knowledge of a company's internals. The attacker is represented as a malicious employee or uses previously compromised credentials of a legitimate user.
White box penetration testing
The goal of a white-box test is to extend the number of hidden vulnerabilities and detection rates. Conducting a white box security assessment enables a tester to go deeper and find vulnerabilities in the target environment and the application source code.
How DataArt Can Help
DataArt's penetration testing experts have conducted hundreds of penetration tests for businesses of all sizes across the UK, Europe, and the USA.
While automating certain routine checks, our pentest's primary focus is made on manual testing, which helps to identify any remaining issues that can be overlooked by your competitors. All our security analysts have over three years of experience in vulnerability assessment and security and penetration testing projects, and they maintain major security certifications, including OSCP, C|EH, and CREST.
How You Can Benefit from Penetration Testing
Avoid revenue loss and reputational damage. In the case of a data breach, your company's reputation will suffer, which usually leads to a loss of customer confidence and causes a drop in revenue.
Proactively identify vulnerabilities. Employing application penetration testing services helps identify the major exploitable vulnerabilities. It helps to reveal the risk your company is exposed to and its impacts.
Expose the real-world attack vectors that could impact an organization's IT assets, data, and security. By modelling a real attack against the target system, it is possible to have an unbiased look at the company's protection level and check whether its security mechanisms are effective in practice.
Validate existing controls and develop guidelines for remediation. Any identified vulnerabilities will be given remediation techniques applied immediately to ensure your IT infrastructure is properly protected.
Meet regulatory requirements and avoid fines. Businesses operating in highly regulated industries (e.g., healthcare, financial services, etc.) require help from security experts who can provide web penetration testing service. The security guidance is designed to make their businesses comply with existing regulations.
Avoid business disruptions. No business is immune from cyber-attack, so scheduling regular security assessments is a way to help prevent interruptions to normal business operations.
Involving an experienced penetration testing services company to assess your environment is a proactive effort of protecting your business from risks of potential cybersecurity breaches.
Put Your System to a Penetration Test
DataArt Penetration Testing Services
The purpose of that test is to determine whether an attacker could compromise web applications to get unauthorized access to private resources and confidential data
The focus of that test is shifted to breaking local privacy and bypassing platform-specific APIs and mechanisms used for data protection
During a network penetration test, DataArt assesses the security of networks and attempts various attacks on the resources located within those networks
Phases of Penetration Testing
Our methodology involves the following five key penetration testing stages. Penetration testing helps in:

1. Planning. The first stage involves defining and documenting test objectives, scope, and rules of engagement.
2. Reconnaissance. During the information gathering phase, DataArt collects and examines key information about the targeted application and related infrastructure.
3. Discovering vulnerabilities. A vulnerability assessment is conducted to identify any security weaknesses through testing, validation, and research.
4. Exploitation. As the last step of the active phase of data penetration testing, DataArt tries to exploit all identified vulnerabilities in order to disclose a true risk level of the possible impact on the system from issue exploitation and minimize false-positive results.
5. Reporting. Upon completion, DataArt's penetration testing team delivers a detailed report with the team's findings and suggestions for prioritizing fixes and walking through the results hand-in-hand with a client.
Our Penetration Testing Expertise
As an experienced pen testing company, DataArt is competent to perform all necessary security assessment activities:
Manual & Automated Security Code Reviews
Perform recurrent and ad hoc security code reviews
Assist the team with the remediation of identified issues
Integrate automated code analysis tools into the development and CI/CD process
Penetration Testing
Perform independent IT penetration testing using an industry-recognized methodology
Prepare and provide a formal penetration report
Communicate the identified issues to the key stakeholders
Hosting Environment Hardening/Security Maintenance
Create a definition of recommended security configuration
Ensure that software and users are compliant with the principle of least privilege
Apply network and host security baseline
Provision security monitoring and alerting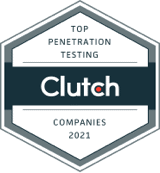 Our Clients
We've completed 1000+ pentest projects for the clients ranging from high-tech startups to Fortune 1000 financial organizations, healthcare entities, travel and hospitality companies, technology groups, and others.
Our customers often request pentesting services since they are either in a high-risk position or in need to provide results of testing for security assurance purposes (e.g., for a client's request during the procurement/sign off process or for internal security requirements).
Put Your System to a Penetration Test
FAQ
Do I Need a Penetration Test if My Company Already Runs Vulnerability Scans?

Penetration tests and vulnerability scans are both important when it comes to the proper security of your business. These two activities can complement each other.

Vulnerability scanning searches for security gaps within your applications/network. A thorough scan ensures any new vulnerabilities are found and patched, enabling you to focus on dealing with more serious ones quickly. However, vulnerability scans do have their limitations; they sometimes miss vital red flags and they can give false positive results.

A penetration test is more sophisticated and mimics a 'real life' attacker, attempting to break your system or network. Penetration testing mostly focuses on advanced cases, revealing and exploiting any types of security gaps that have not yet been discovered by the IT security staff.

Do You Require Access to Source Code?

It is not mandatory to have access to source code when performing a pentest. In most cases, clients can share with us some information on the organizations and their information systems. This gives DataArt security experts additional insight, so we will be able to tailor our attack vectors to testing your system's security controls.

Is pen testing disruptive to our environment? Will our systems go down?

DataArt's penetration tests are thoroughly planned and coordinated to avoid any disruption. However, we always recommend our clients to target a test environment or take care of the data backup. Thus, we are able to minimize potential risks beforehand.

How Often Should a Penetration Test Be Done?

Penetration testing services should be used regularly, at least once a year, to check if the new attack scenarios/vulnerabilities have come into sight, or after introducing major changes to the system.