As a critical enabler of business agility, cost efficiency, and rapid innovation, cloud has transformed the way companies deploy technology to deliver value to their customers. Whether your cloud transformation is well underway, or you have yet to get started, DataArt is your trusted technology partner that will guide and support you in your cloud journey.
DataArt has hundreds of certified cloud experts and maintains active partnerships with all major cloud providers, including Amazon Web Services , Microsoft Azure , and Google Cloud Platform . Using our vendor-agnostic approach and deep technical expertise, we will help you design and implement a cloud strategy to achieve critical outcomes for your business.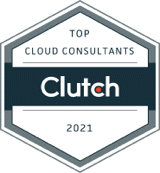 DataArt's Cloud Services:
Assessment and Planning

Your transition to the cloud operating model starts with a comprehensive assessment of your infrastructure, applications, and processes. We will work with you to carefully analyze IT estate and your business objectives, and plan your journey to the cloud that is aligned with your most urgent business priorities and organizational capabilities.

Migration

Some of your applications may be simply re-hosted on the cloud infrastructure, without any changes to the application code. This strategy may benefit organizations that need to migrate legacy workloads out of their data centers to meet a specific deadline, or just want to get to the cloud quickly in the least complex manner.

While the lift-and-shift approach does not unlock the deeper capabilities, cost efficiency, and value of the cloud, it can be a first step in the cloud transformation journey followed by gradual optimization of the applications and deeper utilization of cloud-native services.

Application Modernization (Re-engineering)

Reengineering involves deeper changes to the application architecture and code, e.g. transforming a monolithic application into a microservices (or serverless) architecture to enable its further evolution over time and/or ease its' integration with other systems. This approach enables deeper integration with cloud-native capabilities and services and helps maximize flexibility, agility, and scalability.

Cloud-native Development

Systems that take full advantage of the capabilities of the cloud achieve optimal scalability, cost efficiency, and agility (ability to be changed quickly to test ideas and respond to opportunities). Cloud-native solutions are usually built as microservices, either packaged in containers or using serverless architectures, and managed through agile DevOps processes and continuous delivery workflows.

DataArt designs and delivers cloud-native solutions that achieve critical business outcomes for our clients. In the process, we also help upskill their in-house teams by introducing cloud-specific competencies, modern DevOps automation and tooling, and technical best practices.
Other Technologies

World standard for deploying and operating containerized workloads

DataArt are experts at the leading container orchestration technology, with dozens of Certified Kubernetes Administrators