Electronic Health Records Development
Delivering and Certifying Powerful EHR/EMR Systems
DataArt has extensive end-to-end experience in building easy-to-use EHRs with powerful features so that providers can easily access patient demographic information, clinical data, medical billing, and much more.
DataArt provides a wide range of services, from consulting to developing a new fully compliant system to integrating it with your hardware and software and guiding you through the EHR certification process.
EHR/EMR Development
DataArt is adept at developing innovative custom EHR Systems from the ground up – systems that are easy to learn and use for healthcare professionals.
Our team uses industry-accepted formats, standards and protocols to ensure that your new product can be seamlessly integrated with other software and hardware, be it your practice management system, external laboratory system, insurance provider systems, or your medical equipment. Our experience includes integration with already existing EHRs (through their Web service APIs or by means of HL7 or DB schema), including:
Allscripts
Greenway
NexGen
eMD
Groupcast
GE Centricity® Practice Solution
We create feature-rich EHR solutions that offer complete flexibility, powerful functionality and a variety of tools to quickly and efficiently run all practice departments. Our EHR solutions cover the most important areas based on Meaningful Use regulations, including:
Patient records management (demographic and medical data)
Office visit management and scheduling
Clinical Decision Support
Superbill generation using CPT codes
External laboratory and EMR integration by supporting multiple medical formats (HL7, CCD, CCR, etc.)
Supporting standard encoding of medical data in ICD-9/10, LOINC, etc.
Reporting system
Patient Portal (provides patient access to health Information - profile, demographic information, insurance, problem list, medication list, allergies, lab test results, etc.)
DataArt takes pride in the usability, reliability, scalability and productivity of the solutions that we deliver, ensuring that the platform puts control in the hands of healthcare providers and places no constraints on business processes and workflows. When building a system, DataArt becomes a trustworthy technological partner throughout the whole development process and beyond.
Request online demo of an EHR we delivered.
EHR Certification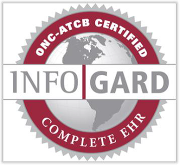 DataArt considers all regulatory requirements, and delivers systems that are secure and fully compliant with HIPAA, CCHIT, and other compulsory standards and regulations. When choosing DataArt as your technology partner, you can rest assured that your EHR will attest to Meaningful Use.
We also have the knowledge and experience to guide our customers throughout certifying their EHR in the ONC-ATCB certification as a Complete or/and Module EHR, help gather all necessary documentation and have the EHR certified.