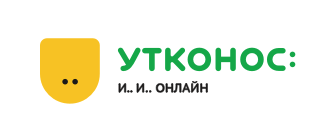 About the client
Utkonos ONLINE is a new generation grocery delivery service that uses both traditional and modern retail technologies. Its product portfolio is divided into 40 000 SKU. Grocery delivery is hi-tech, resource-intensive and demanding part of e-commerce. Today Utkonos employs 4 900 people and has a huge fulfillment center «Sever» of 61,500 square meters with various temperature storage areas and an automated end-to-end quality control system, two fulfillment centers in the «MINI» format: FC «Mosrentgen» with an area of 14 855 square meters, FC «Volkovsky» with an area of 4 700 square meters. An efficient delivery system allows Utkonos to offer two-hour delivery slots and various payment methods to its customers. According to the research agency InfoLine1, Utkonos, with a turnover of 10 billion rubles, is a leading e-commerce food-retailer in Russia with a 30% market share.
" DataArt has played an indispensable role in knowledge transfer. We started the project with just the DataArt team, with no engineers at all on our side, and gradually throughout the project we hired an in-house team of 38 people, and all of them were onboarded with a lot of help from DataArt. Our in-house team is fully in control of the development at this point, and we are also transitioning the support to the in-house team."
Designing for Business Agility with a Custom WMS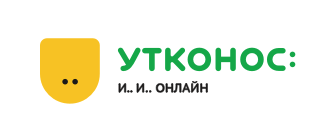 The Client
Utkonos ONLINE is a new generation grocery delivery service that uses both traditional and modern retail technologies. Its product portfolio is divided into 40 000 SKU.
The company currently operates over a million square feet of warehouse and other facilities in multiple locations and plans to expand into new cities with a population over a million in the coming years.
Business Challenge
According to analytics agency InfoLine, the Russian online grocery market grew 50% to 45 billion rubles (USD 581 million) in 2019 on top of 50% growth the prior year. In 2020, the market grew to 135 billion rubles, tripling the 2019 market size. Utkonos ONLINE is one of the largest players in the Russian e-grocery market, with about a 25% market share and 2019 revenue of 10 billion rubles (USD 129 million) according to InfoLine.
Utkonos ONLINE operates in a highly competitive environment. With growing, ambitious competitors hot on Utkonos's heels, geographic expansion and responsiveness to customer feedback became essential to capturing and maintaining market share. However, the company's agility and its ability to scale and innovate was hampered by its implementation of the in-licensed SAP enterprise warehouse management (EWM) system. Over the years, the SAP EWM system became laden with about 80% custom code, making it clunky, heavy, and costly to customize and support.
Any requested changes would take weeks or months to implement. The in-house SAP development team became overloaded with change requests from the business. SAP specialists and consultants were expensive and had high turnover. And as the system accrued more and more custom code, their expertise became less and less applicable and their onboarding became more and more expensive and time-consuming.
Another major drawback was the lack of cost-effective scalability given that an additional license would be required for any new warehouse. With the planned opening of many new warehouses in the near future, the SAP EWM would quickly become cost-prohibitive.
Utkonos's CIO, Maria Artamonova, recalls how the COVID-19 crisis made the need for a new WMS even more urgent:
"The market became very competitive as COVID-19 caused many offline grocery retailers to provide online delivery service. We thought of this as a positive change that would accelerate innovation and ultimately lead to better service for customers. However, we needed to scale fast to cover new geographical areas, and we needed a WMS system that would allow us to quickly and cost-effectively open new warehouses and introduce new business processes."
For Mikhail Klimenko, WMS product owner at Utkonos, the challenge of the project was to create a system that could do what the existing system did but better and in a fraction of the time. "SAP spent years developing the system, and Utkonos spent 15 years optimizing it for the business. The custom WMS was built in a year."
Utkonos's WMS is the "nervous system" of its business, orchestrating many of the company's core operations, from receiving and storage to inventory management, order processing, shipping, and returns. Deciding whether to build a custom WMS or use an out-of-the-box solution was mission-critical.
Utkonos ONLINE examined a wide array of options, including an upgraded SAP EWM system and other "out-of-the-box" solutions at various price points. The company found that a lower-priced solution would not provide sufficient flexibility and that an upgraded SAP system or another, higher-priced solution would cost more than a custom-developed WMS. The company also wanted to escape dependency on out-of-the-box solution vendors and to retain core expertise within the company.
Maria Artamonova recalls: "Out of the box solutions had a variety of typical limitations. Also, we tend to do much better when we have internal expertise, and it is much easier to achieve with a custom system. It was up to us to build a system that does not require extensive onboarding and ensure the productivity of new engineers practically from the get-go."
All things considered, developing a custom WMS emerged as clearly the best option.
The question then became whether to develop the system in-house or partner with an outside developer. In-house development presented numerous challenges in terms of speed, staffing, and project management. In light of the challenges, Utkonos decided that partnering with an outside developer would be the better approach.
As noted by CIO Maria Artamonova, a key factor in DataArt's selection was DataArt's online grocery experience, including its 10-year collaboration with Ocado, the world's largest online-only supermarket. Other factors included DataArt's ability to quickly assemble a high-quality team and Utkonos's prior experience with DataArt, which had developed the company's transportation management system.
DataArt started with a six-week pilot project to address an immediate problem with space utilization at the company's warehouse. The problem was that each item had a dedicated and fixed warehouse slot. When seasons changed, the assortment of items also changed, leaving many slots underutilized because they were tied to items that were no longer in demand, while popular items were lacking slots.
DataArt built a sophisticated slotting module that optimizes warehouse space utilization by suggesting the best stock placement based on a range of factors, including  the physical limitations of warehouse racks and special rules and business logic for placing different types of goods. After the success of the slotting module, DataArt was hired to build the custom WMS.
Meeting the Challenge
The project team set out to build a fully customized WMS encompassing all of Utkonos's warehousing processes. As Dmitry Pisanov, Delivery Manager at DataArt, explains: "Custom development is the investment into flexibility and agility of the business. Moreover, if you calculate TCO over 3-5 years, it is cheaper than an off-the-shelf alternative."
Scale and Timeline
To minimize risk and maximize development speed, DataArt suggested starting with a prototype and then creating a Minimum Viable Product (MVP) followed by iterative product delivery. Critical modules were introduced first and developed in increments moving forward. An MVP consisting of WMS1 (core) and WMS2 (basic) modules as shown in Figure 1 was completed and in production within one year.
DataArt started working on the project in July 2019. The first warehouse running the custom WMS was launched in July 2020. The second warehouse launched in August 2020, and a third launched in October 2020. One of the warehouses has seven floors with plans for a conveyor system. While the warehouses have significantly different topologies and business processes, the custom WMS can support automated and non-automated warehouses, as well as IoT-enabled equipment.

Virtual Topology
To allow maximum flexibility and speed at the design stage, DataArt built the MVP of the WMS using a virtual topology of Utkonos's original warehouse. When configuring the custom WMS to the company's additional warehouses, DataArt created virtual topologies of those warehouses as well. Because it exists in the form of data, the topology of the warehouse can be changed without any corresponding changes to the system code.
The great advantage of virtual topology is that the system can be configured before a particular warehouse is operational, instead of waiting months, if not years, for the facility to be operational before configuring the software. This is especially important for Utkonos ONLINE , which plans to open additional warehouses in multiple cities and does not yet know what the facilities will look like.
The virtual topology can also be used to assess whether a specific topology can accommodate the assortment of products planned for a particular location. When the product assortment is 50,000–100,000 items of varied shape, weight, and required temperature regimes, the ability to use a virtual topology to identify optimal unit allocation within the warehouse confers a strong competitive advantage.
Team Structure
The DataArt development team consisted of over 40 professionals (see Figure 2). Sub-teams of 7–12 members worked in parallel on three separate development flows.
| | |
| --- | --- |
| Role | Number |
| ProgramManager | 1 |
| Business Analyst | 5-10 |
| Solution Architect | 1 |
| Tech Lead | 3 |
| Backend Developer | 9-18 |
| Frontend Developer | 6 |
| | |
| --- | --- |
| Role | Number |
| UX Expert | 1 |
| UX Designer | 2 |
| Devops | 1 |
| QA Engineer | 6 |
| Tech Writer | 1 |
DataArt kept the core team in place throughout the project, ensuring continuity as specialists were added as needed (see Figure 3).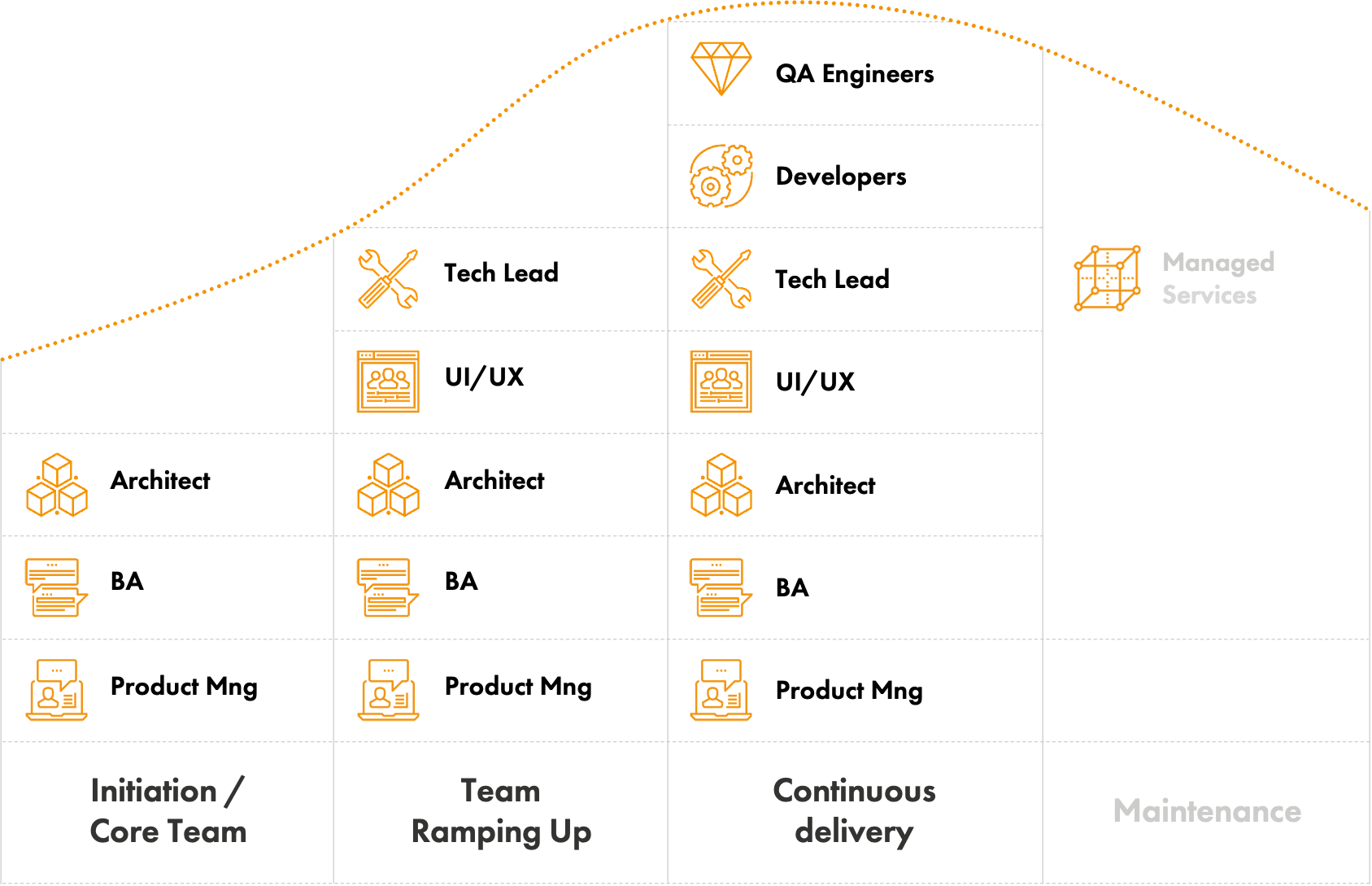 "DataArt has played an indispensable role in knowledge transfer," notes Maria Artamonova. "We started the project with just the DataArt team, with no engineers at all on our side, and gradually throughout the project we hired an in-house team of 38 people, and all of them were onboarded with a lot of help from DataArt. Our in-house team is fully in control of the development at this point, and we are also transitioning the support to the in-house team."
Development Process
DataArt employed a pure Agile process for the custom WMS development project. Every team has daily scrums, two-week sprints, sprint planning, and sprint reviews. Milestone releases are scheduled every three months.
The Agile development process has enabled the team to respond quickly and smoothly to evolving project requirements. At one point, there was a change in Utkonos's solution architect, and the new architect decided to pivot away from the originally planned event-sourcing architecture in order to expedite the rollout of the new solution. In just three weeks, the team was able to refactor the architecture to utilize less granular microservices connected via REST APIs. As part of ongoing system optimization, the team will again refactor the architecture to utilize Kafka-centric, asynchronous messaging between microservices.
Solution Architecture
While flexible and user-friendly, the custom WMS has a complex architecture comprised of numerous internal components requiring integration with numerous external systems. As shown in the figures below, the solution's numerous components and services had to be integrated with the company's SAP ERP system, online store, last-mile delivery system, order layout system, and business intelligence systems.
Internal Components of the System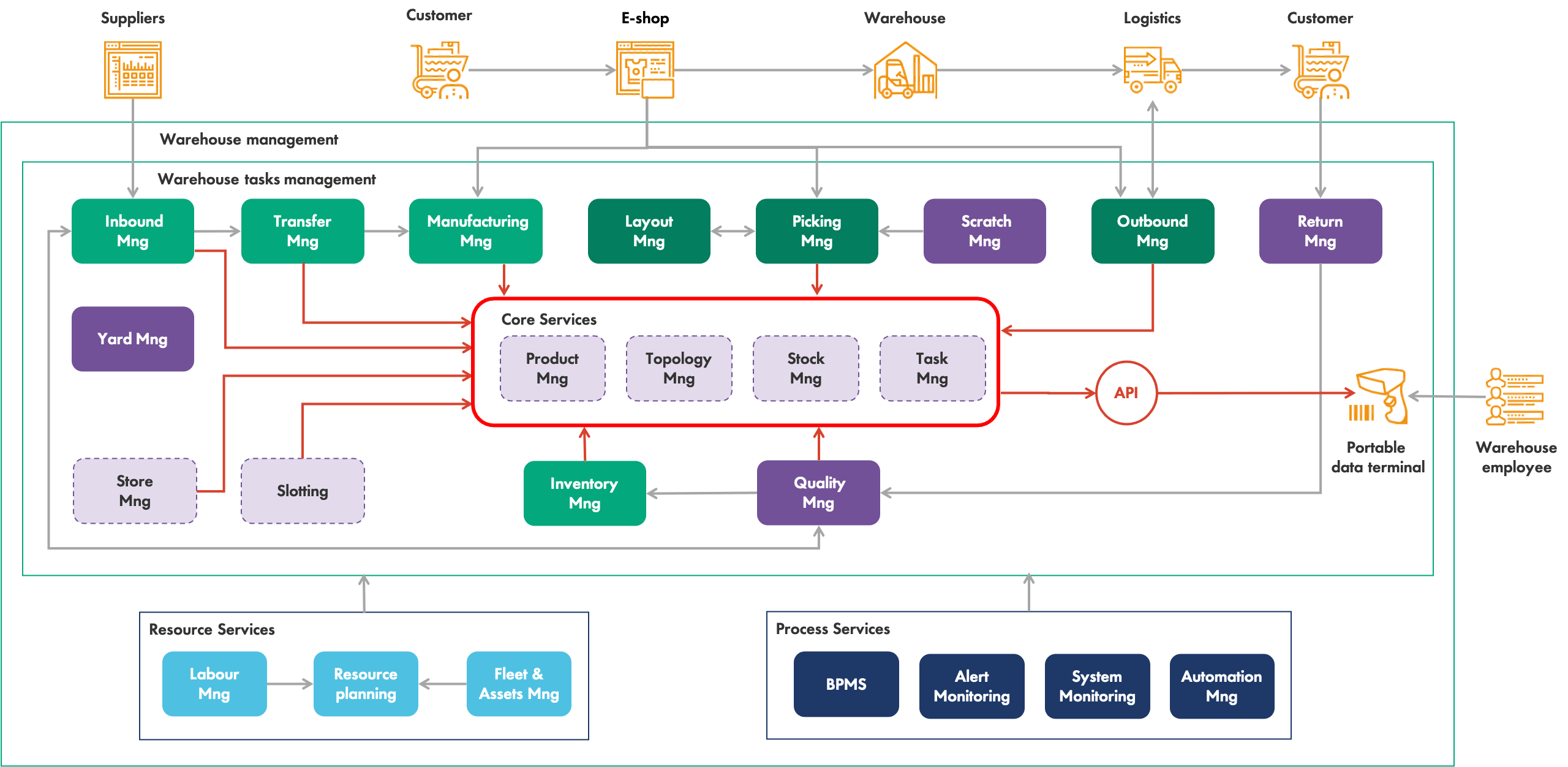 Integration with External Systems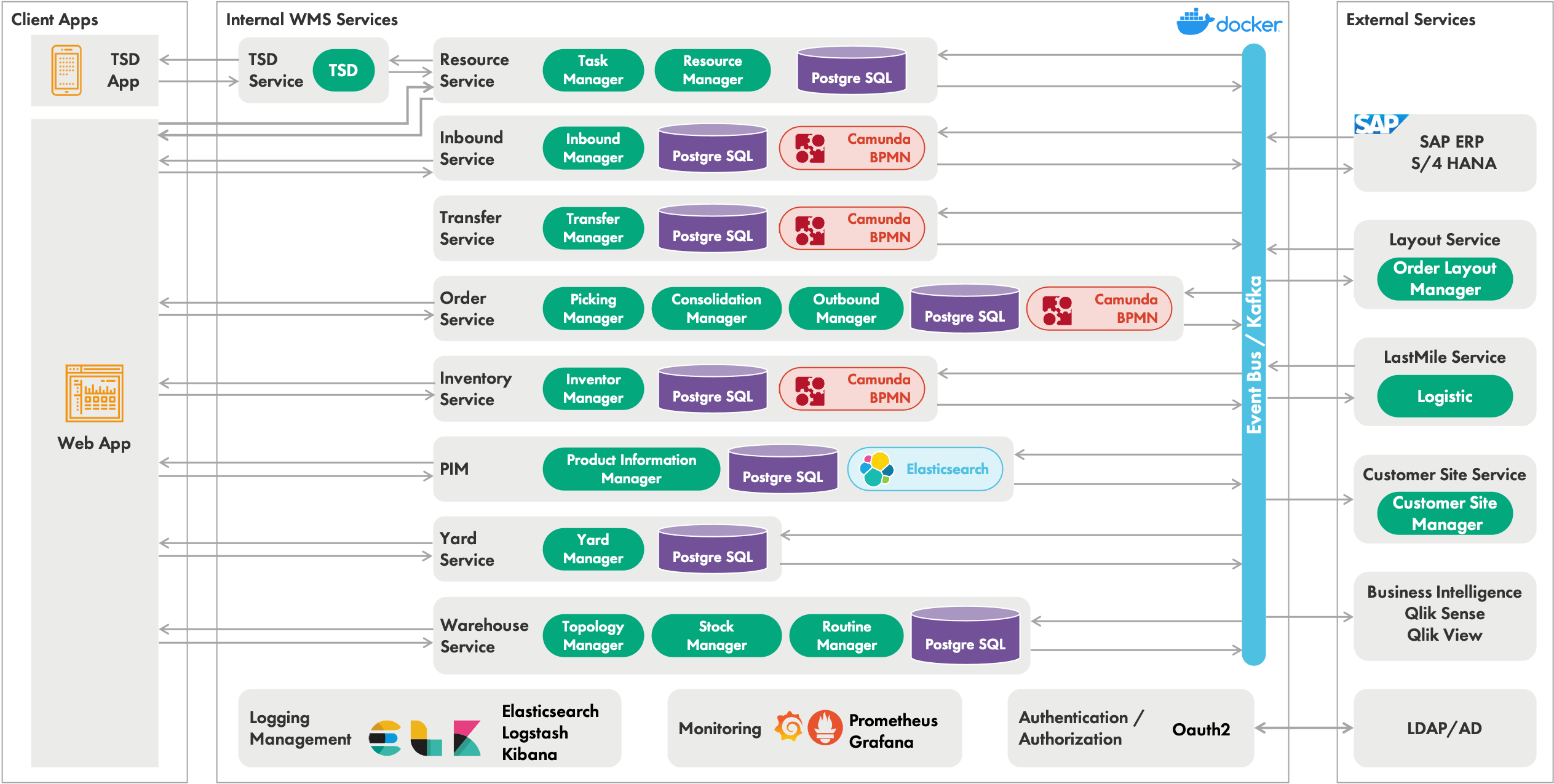 Process Orchestration With Camunda BPM
To maximize agility and transparency, Utkonos ONLINE decided to run all business processes through the Camunda BPM process orchestration framework. Visually represented and dynamically adjustable through Camunda, the company's business processes can be reconfigured without the need for recoding.
And while Camunda BPM is primarily a tool for developers, its intuitive visuals are great for keeping business users informed of the development process. Camunda BPM is also a powerful tool for operations optimization, offering advanced monitoring and alerting capabilities and analytics such as the "most frequently executed steps" in a business process and the "average duration per step".
Multi-Warehouse Support
The company's SAP EWM license covered only one warehouse. Extending the system to additional warehouses would have required the purchase of additional licenses, as well as extensive, complicated configurations. The web interface in the custom WMS allows operators to display the information for any warehouse, and adding a new warehouse is much faster and cheaper than licensing and configuring the SAP EWM system.
Unrestricted System Access
The custom WMS's intuitive interface can be easily accessed anytime from any location through a browser on any device with a VPN connection to Utkonos's network. The solution can support simultaneous access from hundreds of devices.
Portable Data Terminals
A significant factor for productivity is the need for warehouse employees to perform their job functions while simultaneously updating the system with new information. DataArt built an Android application for portable terminals that enables instant system updates via barcode scanners.
Business Benefits
Utkonos's CIO, Maria Artamonova, is effusive in describing the business benefits of the new WMS: "In this competitive landscape, anything that allows you to move faster than competitors is a valuable strategic asset. The custom WMS went into production within a year of hiring DataArt. We planned and hoped to run one warehouse on it, but we managed to significantly exceed expectations and have three warehouses running on the WMS almost by the same deadline. For a system that has only been operating for four months, it is very, very fast. Launching a warehouse every couple of months is unheard of in our industry. My colleagues in the market find it difficult to believe. I think that is a huge indicator of the project success."
By engaging DataArt to develop a custom WMS, Utkonos ONLINE has created a powerful competitive advantage and unleashed new potential for innovation and growth. As Maria Artamonova puts it: "With our own solution, we are unconstrained by any vendor, their upgrade cycle or pricing policy. The system is highly productive, light, flexible." In addition to new potential for innovation and growth, Utkonos ONLINE has already realized a host of particular business benefits from the custom WMS, including:
Increased facility throughput, overall performance, and efficiency
Increased employee productivity
Reduced maintenance costs
Reduced warehouse operation costs
Business alerts and KPI monitoring
Company-owned IP that can be licensed to other companies with similar warehouse operations
Notable Features
The custom WMS incorporates a multitude of notable features, including:
Virtual topology
Scalable microservices architecture
Multi-warehouse support (compatibility with various warehouses with different topologies and process groups)
Open-source infrastructure
Flexible integration with external systems
Continuous delivery infrastructure
Audit trail and operations / key changes monitoring
Ergonomic and intuitive UX/UI
Highly flexible business processes
BPMS for business process monitoring and management
Multiple time-zone support
The Relationship
With experience on both the client and the vendor side of software development projects, CIO Maria Artamonova appreciates how successful the Utkonos ONLINE-DataArt relationship has been:
"I don't believe in love at first sight for a vendor. Like in any partnership, there was a period of getting used to each other, aligning and managing expectations. After that period, I can say it is one of our most successful partnerships.
I have worked on the software vendor side prior to working for Utkonos ONLINE, and I know all the typical problems for the client that an outsourcing arrangement can present. With DataArt, I do not see those."
"Retaining key people throughout the project is a determining factor for the success of the project and one that most software development companies struggle with. DataArt dissolved my fears in this regard. We have not lost any of the critical people throughout the duration of the project. We had a very good account manager who highlighted potential risks in a timely manner, was very deeply involved in keeping the team together and motivated throughout the whole project."
"DataArt's team was very efficient and developed a very productive relationship with our internal team. They provided a very high quality of service, and if we had any issues at all, we would get a very fast response, even to issues not directly related to the WMS. For instance, DataArt also provided a lot of help with the website."
Commenting on the interaction between the DataArt team and Utkonos's internal team, WMS product owner Mikhail Klimenko remarked that "we worked as one team and really did not feel any difference between the internal and external team members."
Technology
The Software stack for Microservices Implementation:
Container Orchestrator Platform
Kubernetes+ Docker
Services Communication
Messaging event-driven platform using Kafka
Languages and Frameworks
Java, Kotlin, SpringBoot
Databases
In order to ensure loose coupling, each service has its own database – PostgreSQL
Workflow Engine
BPMN Engine Camunda
Security
OAuth2, Spring Security
DevOps Support
Microservices deployment and support-related challenges with CI/CD Gitlab
Centralized logs analysis
ElasticSearch, FluentD, and Kibana
Application Matrices
App Dynamics for Application Performance, Server and Database Monitoring
The Future
Utkonos strives to expand its geographical presence, secure and maintain a leading market position, and continuously improve its quality of service. The development of the new WMS was a critical step in achieving these goals.
READ OTHER CASE STUDIES