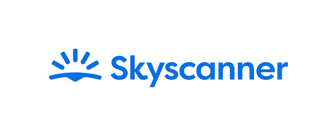 About the client
Skyscanner is a leading global travel search engine offering a truly comprehensive, free flight, hotels and car rental search service.
In addition to helping travelers find their best travel options, Skyscanner powers the travel industry with Skyscanner for Business — a suite of products like APIs, widgets and white labels. The latter is already powering hundreds of global companies such as Lonely Planet, DealScoopr, Secret Escapes and JALAN.
Additionally, Skyscanner for Business offers two data-led products for the industry; Travel Insight and Travel Rankings.
Supporting Skyscanner in Global Travel Transformations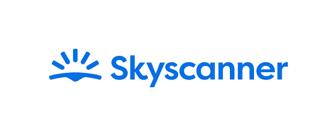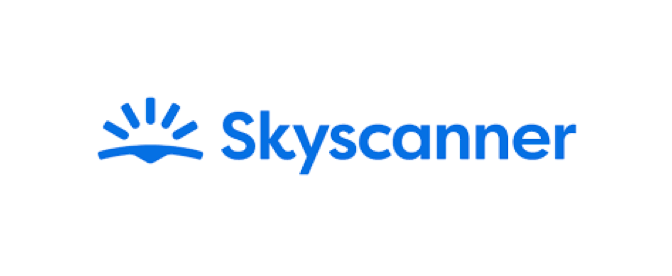 Client
Skyscanner is a leading global travel search engine providing comparative price results for flights, rental cars and hotels. Over 50 million travelers use the free, mobile-enabled service each month, which generates revenue by directing customers to providers for booking while Skyscanner partners license the technology to enhance their own websites.
The popular Skyscanner for Business product line offers APIs to add Skyscanner-based search for flights, hotels and car rental along with plug-and-play website widgets. Alternatively, partners may license Skyscanner's customizable, White Label front-end which delivers full functionality and enables the agency to participate in the revenue sharing business model.
Business Challenge
As demand for its customizable technology rapidly increased, Skyscanner's leadership recognized the need to address three high-priority business requirements:
Streamline the site configuration process for new clients
Simplify the deployment of new features
Further enhance the product to leverage other search and discovery services, e.g. Google Maps, Foursquare.
Skyscanner engaged DataArt to help develop the solutions to these challenges.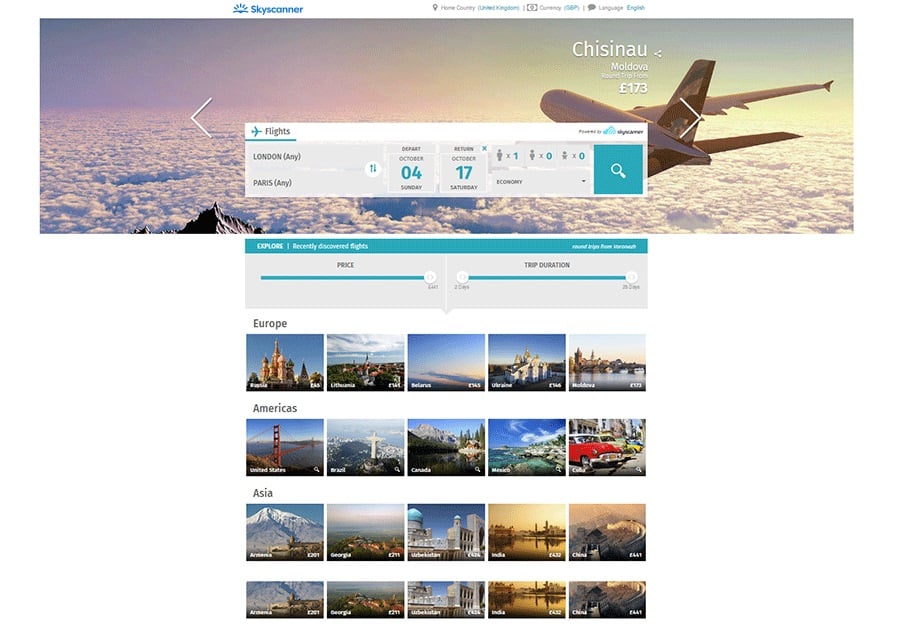 Solution
Under Skyscanner's guiding steer, DataArt helped the travel search engine to implement a newly architected version of the White Label product to simplify configuration while increasing performance and maintainability.
To meet Skyscanner's specified requirements, additional improvements to the platform included:
New Capabilities
Added social media sharing, additional filters and purpose-built features, e.g. widget displaying better offers in a given date range
Sophisticated UI/UX Design
Enhanced the experience of travelers by invoking industry best practices while partner website admins benefit from powerful, easy to use tools
Advanced Dashboards
Updated dashboards to be more informative and useful
New Integrations
Extended the platform by crafting the ability to integrate with marketing enhancement services like AddThis and be hosted in cloud-based environments, including Amazon S3
Impact
Skyscanner has deployed the advanced version of its core product to enthusiastic response from its customers who welcome the new features and ease of customization.
The new architecture accommodates frequent updates without complicating maintenance, and the Skyscanner team have built in several great updates to the White Label since its original release.
Skyscanner now has more than 1.6 million unique visits each day, around 2% percent of which originate from partners whose websites employ the advanced White Label product.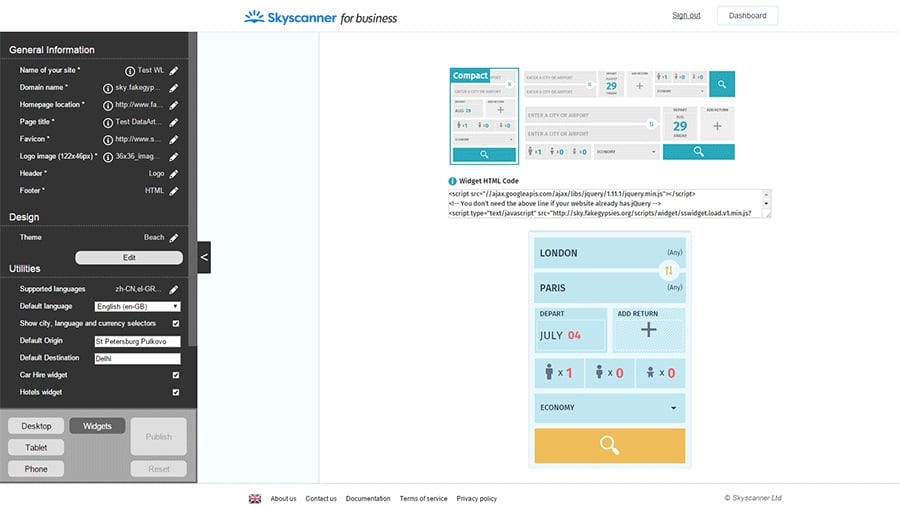 Technology
ASP.NET
Castle Windsor
jQuery
Backbone.js
Jasmine and Node.js
" Thanks to our partnership with DataArt we've been able to achieve our goal of making our white label product easy to use. "