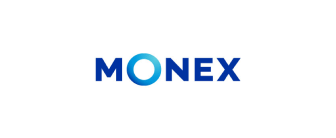 About the client
Monex Europe is a Europe's leading commercial foreign exchange specialist. Monex Europe provides confidential, same day spot and forward foreign exchange contracts to a client base of FTSE-listed companies, large corporations, SMEs and financial institutions.
" DataArt is an invaluable strategic partner for Monex Europe. We trust DataArt to deliver all of our business systems developments and to ensure reliable, secure delivery of our IT based products and services internally and to our clients."
Building and Supporting All Internal and Customer-facing Systems for Monex Europe
Client
Monex Europe is a leading specialist in commercial foreign exchange. Headquartered in London, the company offers a suite of foreign exchange products designed for corporate clients and high net-worth individuals.
Engagement Overview
DataArt is the exclusive provider of custom software development for Monex Europe. A nearly 60-person team is responsible for building and supporting all of Monex internal and customer-facing systems, including the company's mission-critical back-office platform, online trading and payment platform, mobile apps (iOS, Android), and API for clients.
Engagement History
In March 2015, Shelton Fray, co-founder and Systems Director at Monex, was searching for an IT services provider to supply a couple of engineers to support the infrastructure of a back-office application. DataArt deployed a small team to work on the project. Less than a year later, Monex had entrusted DataArt with the application's modernisation and comprehensive support.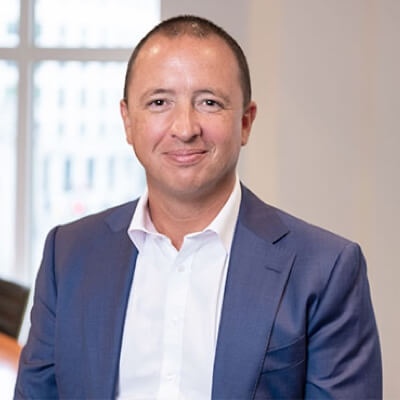 Shelton Fray
Co-founder and Systems Director at Monex Europe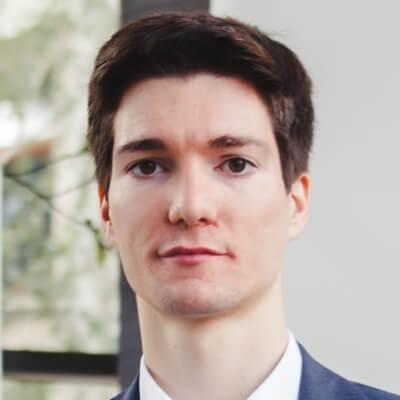 Kirill Shustov
DataArt's Programme Manager for Monex Europe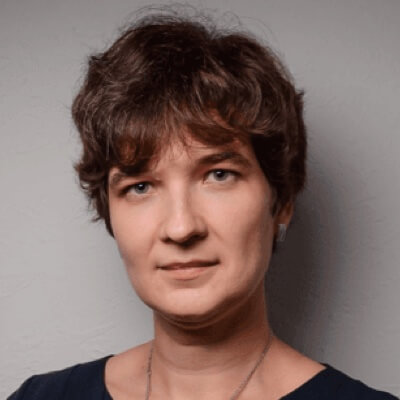 Ekaterina Shalapanova
DataArt's Delivery Manager for Monex Europe
"Prior to DataArt, there were frequent problems following a new release where, despite extensive testing, there were often urgent fixes needed. It would be released on a Saturday, and I would wake up on a Monday to all kinds of issues. That is no longer the case. I don't worry about the stability of the system. We hardly have any downtime."
As the DataArt team continued to prove its value, Monex called on DataArt to tackle more complex and challenging projects. The team grew from two people in the first quarter of 2015 to nearly 60 people by the end of 2017.
"We've got the flexibility to use as many of DataArt's engineers as we need in order to complete the projects that we want and need quickly enough. DataArt having the ability to provide thousands of people at the ready for us if need be, was very reassuring. We now have about 60 of DataArt's people working full or part-time for us. The composition of that team frequently changes depending on our development requirements. For me to hire and manage an equivalent team would mean a lot of work in terms of human resources. Having a contract with DataArt makes Monex's life a lot easier."
Mr. Fray, who continues to oversee the engagement, introduced DataArt's team to other business stakeholders in different departments.
In 2019, Kirill Shustov, DataArt's Programme Manager for Monex Europe, moved to London to work on-site at Monex's U.K. headquarters.
"When we started working with Monex, I was living in St. Petersburg, Russia and was focused on building the offshore team and establishing the project management framework for Monex,» recalls Shustov. «When I felt comfortable with the performance and structure of the team, I relocated to the U.K. and took an on-site position in Monex's London office, shifting my focus from project management to IT strategy."
DataArt is currently Monex's exclusive custom software development vendor, providing a range of IT services from systems ideation to 24/7 customer support.
Partnership Scope
DataArt is involved in conceiving, designing, developing, and supporting Monex's bespoke software, which enhances the operation of numerous functions, including trading, sales, operations, reporting, payroll, HR, legal, compliance, and risk management.
"DataArt is an invaluable strategic partner for Monex Europe. We trust DataArt to deliver all of our business systems developments and to ensure reliable, secure delivery of our IT-based products and services internally and to our clients. We also rely on DataArt for their industry knowledge, advice, and support at all times. They are our sole vendor of these services, with only systems security, architecture and project management oversight being the elements governed by Monex staff."
The engagement can be broken down into the following core categories:
Design and implementation of a digital transformation program
to transition from phone-driven manual transaction processing to a modern omnichannel IT solution.
Development and support of Monex Pay
an innovative, global online payment platform that enables fast, safe, and secure same-day and spot foreign currency transactions in over 60 currencies.
Redesign of a legacy back-office platform
to take advantage of the cloud and microservices architecture style. The system, which includes a trading engine, a payment engine, a compliance engine, a payroll engine, CRM, HR, and regulatory reporting, handles the entire back-office business flow.
Development and support of the Monex API
a solution for any online payments or currency exchange provider or any business with an online presence looking to access FX trading functionality and outsource domestic and international payment processing.
Development of client-facing and internal mobile apps for iOS and Android
Team Structure, Governance, and Business Agility
When the team was relatively small, hands-on management and oversight by Monex were achievable. But, as the number of engineers grew, DataArt implemented a lean, flexible, and efficient governance structure designed for client convenience.
"I deal with four people, not sixty. I leave the nitty gritty, day-to-day project management to Kirill."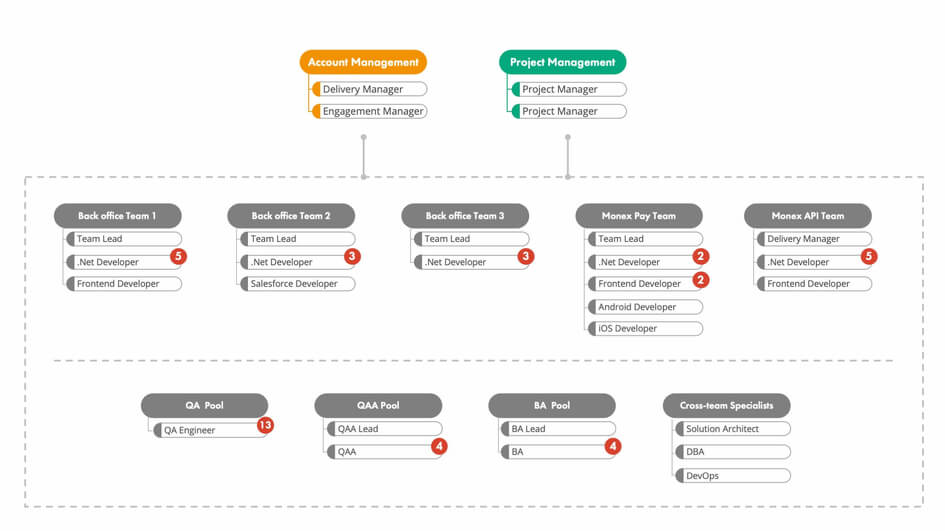 As shown in Figure 1, the account management team is responsible for strategic decisions, while five scrum development teams focus on specific products. There are also project managers, cross-team specialists (such as architects, database administrators, and DevOps), QA automation specialists, and business analysts who work with the development teams as needed. Teams are self-sufficient and require only minimal client input.
This structure allows for a direct, many-to-many relationship between teams and business stakeholders. Every business stakeholder (usually a function head at Monex) can reach out directly to the team leader to request and discuss any new product, feature, or functionality. The DataArt team can develop five major features at once in three-week release cycles with the flexibility to quickly correct course. This structure also allows development teams to make decisions, self-organise, and combine efforts in response to new challenges and changing priorities and then rebalance when appropriate. The result is exceptional business agility for Monex.
"I was the only stakeholder in the beginning, which meant that any software that my colleagues needed would have to come through me. The scope grew, and the flows of information and the requests for software from various departments became too much for me to handle single-handedly. Nowadays, even though I am aware of every request, the stakeholders of each department deal directly with the business analysts from DataArt, which is great as there is no need to micromanage.
My colleagues at Monex love the effectiveness of the support function DataArt provides. There's a team member called Lubov, who has become known internally as the fastest responder on email. She's almost like an autoresponder! Whenever a staff member emails saying 'this is not working' she replies within seconds saying 'we are looking at it now.' This gives our staff the comfort that a human being is looking into the issue straight away."
The development teams consistently work with and have a direct and close relationship with as many as 12 business stakeholders (Monex's department heads and executives) and occasionally develop solutions for 30 or more stakeholders at a time. This lean, autonomous structure results in efficient workflow and collaboration, allowing management to focus on the strategic direction of Monex's IT.
A six-month roadmap of DataArt's projects allows every Monex department to track their progress and discuss priorities, development speed, and any other specifics directly with the DataArt team.
"I have daily contact with Kirill and maybe one or two of the business analysts. Then we have monthly meetings and quarterly meetings. They produce many reports on how things are going. The invoicing is broken down by project each month, which makes it easier for our head office to go through."
Mr. Fray also notes:
"We've opened offices in Amsterdam, Madrid, Toronto and Singapore. DataArt allowed us to scale easily, preparing the systems for different regions and different banking settings as well as developing new products."
The Relationship
"We consider ourselves Monex's software development department. We care deeply about the results we deliver, understand the business environment and challenges, and do whatever it takes to solve them. Compliance and regulatory requirements almost invariably impact IT, so we frequently deal with challenges that have both high urgency and uncertainty."
"Trust was there from the start. I liked the DataArt team as soon as I met them. But it wasn't blind trust. The way they approached the engagement and projects from the outset just set the relationship off to a good start, and it has been good since."
He has high praise for the quality of the team:
"DataArt has smart people. I've been impressed with everyone. When the product is released, it works, and it stays working. It's very reliable."
Mr. Fray has also found that
"the communication at DataArt is very good. They initiate communication or have a plan for how it should be done. Our team is from Russia and Ukraine, and they all speak very good English. They are extremely punctual for meetings, very responsive, friendly and hard-working. The relationship just naturally works."
The minimal involvement of management in day-to-day operations promotes a feeling of ownership and responsibility for all operational, architectural, and methodological decisions.
As Ekaterina Shalapanova, DataArt's Delivery Manager for Monex Europe, describes the relationship:
"While we have clear direction from Monex Europe about the end product, we experience a lot of autonomy in how we deliver it. Our decisions have a direct and almost immediate impact on the daily life of Monex employees. We get direct feedback and feel personally accountable for our work product."
The Results
During the five-year collaboration with DataArt, Monex Europe has increased business agility, achieved significant growth, and improved its operations. Here are just some of the key accomplishments supported by improved technology:
1. Monex has opened offices and established legal entities in Amsterdam, Madrid, Toronto, and Singapore, providing 24/5 operational coverage for its customers. All new entities use the same DataArt - supported bespoke software.
2. Monex has significantly diversified its main liquidity providers, tripling their number. DataArt handled the integration process with each of these brokers and developed an engine to automatically choose the optimal provider for each trade.
3.

4. Monex has attracted new segments of more profitable customers, creating additional compliance requirements. DataArt automated some of the compliance processes, including KYC, risk calculation, transaction monitoring, and PEP/Sanction screening.
5. Monex has grown from no online execution in 2015 to:
29% of trades executed online in 2019.
Over 41% of payments completed online in 2019.
DataArt and Monex Europe's collaboration will continue to drive the evolution of Monex's IT systems and support its future expansion.
"DataArt is an invaluable strategic partner for Monex Europe. We trust DataArt to deliver all of our business systems developments and to ensure reliable, secure delivery of our IT-based products and services internally and to our clients. We also rely on DataArt for their industry knowledge, advice, and support at all times."