Automated Educational Platform for Corporate ​Compliance Training and CPD
Client
The client is a technology consulting company with 3500+ employees across 20+ global locations, and an average annual staff turnover of around 7 percent.
Business Challenge
During its 20 years of operation, the company accumulated a vast pool of knowledge, which it wanted to share with all existing and future employees in a structured, efficient way.
As the company was growing in multiple locations worldwide, it became inefficient and costly to schedule repetitive onboarding and role-specific training for new personnel.
Onboarding materials were scattered across departments and lacked standardization.
Additionally, there was a need to formally ensure every employee's compliance with job-specific requirements, corporate policies, and legal standards of his/her country of residence.
The management was looking for a way to automate the process on a company-wide level. Besides, as a part of the talent management strategy, company employees were to be given a convenient tool for continuing professional development (CPD) and mastering new skills.
Solution
To optimize continuous knowledge transfer and ease administrative burden, the company-wide knowledge pool was organized into learning courses. For instance, onboarding materials were structured as multi-module learning courses that covered various areas: compliance with policies and standards, workplace security, office conduct rules, use of corporate tools.
DataArt team covered the entire development process: starting from discovery workshops for requirements gathering, outlining instructional design and content production, and ending with system implementation and staff training. The solution was to combine features of a talent management system and an automated learning management system.
The automated educational solution is built on top of a free platform, Open edX®. The platform was selected because of an active contributor community and a set of tools for automating courses assessment. DataArt engineers expanded the functionality of the platform with custom modules to fit the client's business needs.
The solution is natively integrated into the client's existing IT ecosystem. ​It can be deployed in the Linux-based cloud environment or a dedicated virtual machine.
Benefits
The solution has been in use for 10+ years. It hosts 200+ courses catalogued by specializations and levels, with quizzes and self-check assessments, 600+ webinars, and other corporate materials. Currently, the system handles 3000+ unique visitors per month, i.e. the entire company personnel.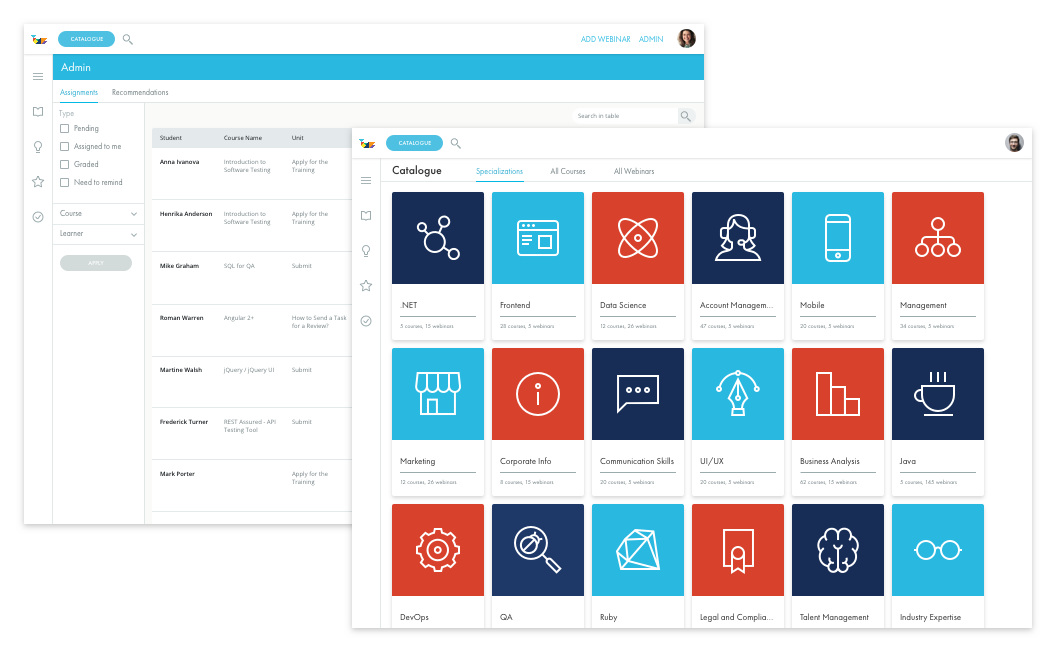 Highlights
Trackable and bulletproof compliance training.

Mandatory rich-media courses provide the necessary training for all employees. As the platform is integrated with an internal time tracking tool, it automatically flags and locks out personnel who have not passed the training. ​As a result, the always-compliant company-wide imperative is ensured with no administrative intervention. Compliance reports and training records are readily available at any time.
Easy staff onboarding and ample opportunities for continuing professional development improve staff retention, decrease the load on the HR department and provide valuable insights into staff progress and promotion.
The automated educational solution helps the client meet the following goals:
Reduce administrative burden of onboarding, corporate training, reuse of webinars and other education activities.
Systematically catalogue the courses to let employees search and select training based on personal interests and company recommendations; track their progress with automated, manual, peer-to-peer and self-checked assessments.
Host and catalogue recordings of corporate webinars on the platform. Webinar records are added in a light-weight course format, so they natively form a part of course clusters in a specific topic.
Keep employee training records and personal profiles with completed courses, technical and soft skills, and CPD roadmap.
Reduce workload for course tutors by cutting the time they spend preparing educational materials and checking completed assignments with the automatic checking functions, including various forms of textual, graphic, programmable tests and peer-to-peer assignments.
Ensure effective communication to keep employees and tutors in touch and give prompt feedback and rating for the educational content by direct messages, forum, and wiki pages.
Embed a streaming video server with on-demand access to educational webinars.
Integrate the system into the corporate infrastructure and notify employees about new courses available and the training they need to complete.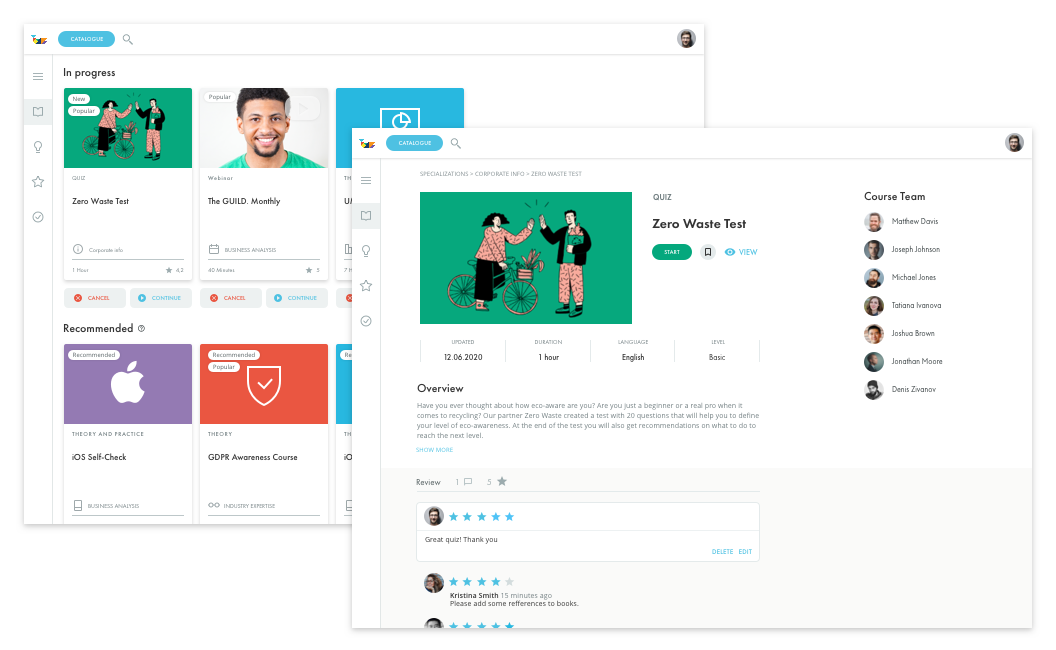 Technology
Open-source platform: Open edX
Python
Open edX is a registered trademarks of edX Inc. All Rights Reserved.