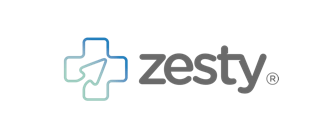 Client
Zesty offers online and mobile platforms for booking healthcare appointments. It allows patients to find a private or NHS healthcare provider near them, and book an actual and confirmed appointment in under 60 seconds.
Business Challenge
Zesty was looking to hasten the delivery of new features for the platform to foster rapid business growth, both in terms of patient bookings and acquiring new healthcare providers. The company is also aiming to expand its presence into international markets in the near future.
Solution
Zesty's core value proposition is "to book an actual, confirmed appointment in under 60 seconds". To support this idea from the tech point of view, DataArt has been improving existing and developing new functionalities across Zesty's online and mobile products.
The solution included a complete rebuild of the clinic-facing application, Zesty Diary, from the ground up, making it agile and user-friendly (various browser support, new UI).
DataArt enriched the functionality of the customer-facing website and backend API and developed mobile applications for iOS and Android that allow patients to book appointments anytime and anywhere.
To facilitate geographical scalability, DataArt implemented multi-language support for the website and mobile applications.
Impact
DataArt helped the client reinforce its value proposition by delivering continuous improvements and new features to the platform.
Collaboration has made it possible to:
Speed up platform development
Embrace a growing number of mobile users
Scale business easily
Whenever Zesty needs to move into a new geographic region, a new language can be added in just a week
Zesty is now rapidly expanding its geographic footprint, having kicked off with the Netherlands in 2015.
Technology
Ruby on Rails, Java, CoffeeScript, SASS, Twitter Bootstrap, SpineJS, Foundation, Marionette.js, jQuery, PostgreSQL, Redis, ElasticSearch, SideKiq, Heroku, RJMetrics, minitests, Selenium Webdriver, Thucydides, Maven, PhantomJS, Jenkins,Android SDR, Android annotations, Picasso, UIKit, MKMap, AFNetworking lib, Memcached, Faye, Doorkeeper, Twilio, Stripe (for payments), Google Maps, Slim.

Zesty Mobile App Homepage

Zesty Mobile SERP

Practice's Info Page
James Balmain, CEO of Zesty said:
"With DataArt's help and expertise, we are regularly releasing updates to our online and mobile services in order to further assist patients in finding the most suitable healthcare provider near them.
Our technology enables users to book an appointment across many platforms, whether it is on a practice's website, partner website, zesty.co.uk or via a patient's smartphone in less than 60 seconds."