Legacy Systems Transformation for Monex Europe
Client
Monex Europe is a leading specialist in commercial foreign exchange. Headquartered in London, the company offers a suite of foreign exchange products designed for corporate clients and high net-worth individuals.
Engagement Overview
DataArt is the exclusive provider of custom software development for Monex Europe. A nearly 60-person team is responsible for building and supporting all internal and customer-facing systems, including the company's mission-critical back-office platform, online trading and payment platform, mobile apps (iOS, Android), and API for clients.
Business Challenge
A security audit revealed that some of Monex's systems were using SaaS services in Azure that were no longer supported and no longer receiving security updates from Microsoft. And while Monex's agreement with Microsoft provided volume discounts on Azure services, one of the conditions for keeping the agreement in place was that Monex could not use classic Azure services due to their deprecation.
Solution
Utilizing its expertise as a Microsoft Gold Cloud Platform Partner, DataArt was able to eliminate the need for classic Azure services by containerizing and deploying legacy applications in Service Fabric, a next-generation platform that makes it easy to package, deploy, and manage scalable and reliable application components. The bundling of Windows Docker (with IIS) with Service Fabric eliminated the need for classic Azure services without any significant investment in system overhauls.
The transformation process included:
Determining the most advantageous hosting strategy in terms of cost, development effort, and risk
Deploying and testing proof-of-concept solutions to proactively identify and resolve technical issues
Moving each product to the new hosting environment while backing-up to cloud services
Sharing knowledge gained and updating best practices for future development projects.
With limited time to complete the transformation due to code synchronization and deprecated services, DataArt's team met the deadline.
Business Benefits
Monex Europe realized numerous benefits from the transformation, including:
Substantially increased efficiency
Substantially reduced costs and infrastructure requirements
Implementation of security best practices
The ability to flexibly manage load distribution, ensure the security of inter-service communication, and maintain a high degree of fault tolerance with zero system down-time
Added flexibility in system health monitoring and diagnostics.
Monex Europe's collaboration with DataArt will continue to drive the evolution of Monex's IT systems and support its future expansion.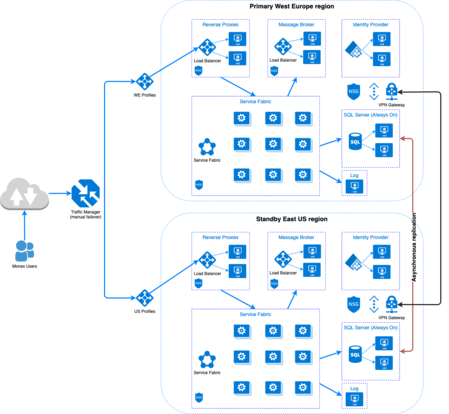 Technologies
Microsoft Azure
Entity Framework 6.0
WCF
ASP.NET
ASP.NET MVC
ASP.NET Web API
CSS3, Bootstrap, LESS
HTML5
JavaScript, jQuery, ReactJS, Angular.js
MS SQL Server (T-SQL)
RabbitMQ
Objective-C