Travel & Hospitality AWS
Cloud has transformed the way travel & hospitality companies deploy technology to deliver value to their customers. As an AWS Consulting Partner, DataArt is ready to help you whether your cloud transformation is well underway, or you have yet to get started.
With 400+ successfully completed projects DataArt is your trusted technology partner that will guide and support you in enabling business agility and driving cost efficiencies using AWS's powerful solutions.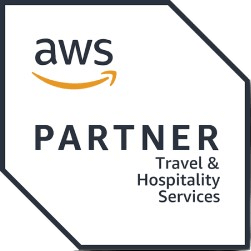 Efficient IT Operations
Well-Architected Reviews
Assessment and encouragement of using best practices of building in AWS through systematic reviews.
(Across the industry, multiple projects)
Cloud Security Assessment
Find non-addressed security gaps and issues and verify that implemented security controls are in line with the company's policy
(Volara, Various Travel & Hospitality customers)
Modernization for Systems & Solutions
Migration and Modernization Assessments
Assessing current state of application landscape and assisting in creating a path towards AWS.
(Trader Interactive, GDS, Cruise Line)
System modernization and platform teams
DataArt teams can lead by example, thus creating a scaffolding for customers' teams to bridge skills and capacity gaps.
(Ideas)
Transformations for Reinvention & Innovation
Business Transformation & Innovation
Leveraging DataArt Solution Advisors to achieve business outcomes within constraints of budget, timelines, and technology landscape.
(Inchcape Shipping Services, Various Travel & Hospitality customers)
Customer Service, Retailing & Personalization
Contact Center Modernization
Customization of Point of Sale
Enhancing of tooling to streamline booking, PNR creation, seat assignments, price quote creation, price optimization, schedule change handling, queue management, PNR changes, QC, exchanges and refunds.
(Various TMC and Travel agency customers)
Traveler/Guest Loyalty & Rewards Management
Custom Loyalty System Development
Architecting and implementing system for loyalty points collection, redemption, loyalty tiers
(Rappi, iSeatz, The Parking Spot)
System modernization and platform teams
DataArt teams can lead by example, thus creating a scaffolding for customers' teams to bridge skills and capacity gaps.
(Ideas)
Product Offerings & Pricing
Master data management and supply aggregation for OTAs and TMCs
Integrating multiple supply sources for air and/or hotel with either normalization or aggregation & deduplication strategy.
(Leading OTA, Leading cruise lines)
Single View of the Traveler/Guest
Data management for Hospitality Industry
Designing and building data platforms to be used by owners, operators, management companies, brands, and employees. (Venza)
Our Services
DataArt's deep travel expertise is based on successful engagements in helping more than 100 clients in travel and transportation, including railway & ground transportation companies, airlines, OTAs, GDSs, tour operators, timeshare, vacation rentals and hotel/hospitality businesses.
Travel Management Solutions
Hotel Reservation Solutions
Hospitality Management Solutions
Travel Distribution Solutions
Infrastructure and application security
Solution Design + IT Development
Cloud enablement services
Trusted by Leaders in Travel & Hospitality
DataArt has become our strategic outsourcing partner for CPGs Vertical within Rappi. Our relationship started when DataArt was asked to fulfil 20+ Open Positions which they succeeded with outstanding results by providing high-quality engineers in only one month. I would certainly recommend everyone to work with DataArt.
Pablo Dominguez
VP of Engineering - CPGs & Revenue, Rappi
DataArt has found the right way to integrate into Onepark's startup environment and to speed up delivery focusing on important tasks and reducing time to market. I strongly recommend DataArt to any company that needs a reliable technology development partner.
Cyril Guiraud
Chief Product Officer, Onepark
DataArt has proven its value in delivering high-quality solutions during a fast ramp-up phase. In 2021, our internal development has been fully replaced by a dedicated DataArt team.
Gilles Latouche
Co-founder, President, Onepark
We chose DataArt to validate a POC involving complex hotel content sourcing and shopping via a new agent application. DataArt is now assisting us in bringing this product to market.
Jennifer Smith
Chief Product Owner, Hospitality Retailing, Travelport
Thanks to our partnership with DataArt we've been able to achieve our goal of making our white label product easy to use.
Filip Filipov
VP Product Management, Skyscanner
DataArt proved to be a trusted technology partner who helped us to launch the new version of our car booking application.
Emma Hamlin
COO/CTO, GroundScope
HotelTonight found a partner in DataArt who can provide travel expertise while also augmenting the team.
Sam MacDonnell
CTO, HotelTonight
Working with DataArt allowed us to successfully execute our core systems development.
Ron Rich
Chief Information Officer, The Parking Spot
We have a valued and trusted partnership with DataArt.
Renee Tsielepi
Head of IT for eBusiness, Miki Travel
Thank you for contacting us!
We will be in touch shortly to continue the conversation.