We Are Engineers with Open Hearts
Driven by our People First principle, we integrate engineering excellence with human values that drive our business and approach to relationships: curiosity, empathy, trust, honesty, and intuition. These qualities help us deliver high-value, high-quality solutions that our clients depend on and lifetime partnerships they believe in.
Commitment to people is the main and absolute value for DataArt. Our mission is to learn how to realize the potential of each person to achieve the best results.
At DataArt, we consider ourselves a part of the society that accepts a wider responsibility towards each other, the communities in which we operate, and the planet we all live on.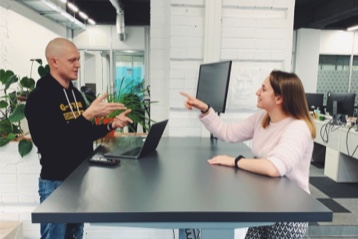 OUR PEOPLE-CENTRIC VALUES
People First
Relationships are the foundation of a long-term value generation. We value our colleagues and are ready to invest in their professional development. We do not sacrifice the future for the sake of here-and-now profit.
Expertise
We believe that technologies and engineering expertise will help humans build a better world for everyone. We integrate our engineering excellence with deeply human values (humanity over technologic excellence).
Flexibility
We like variety — it helps us and all humanity evolve. We defy dogmatism, we are ready to change ourselves along with the changing environment and our mindset for a greater benefit of the world.
Trust
We believe that people are free and responsible individuals. We find strength in empowerment and education instead of investing in bureaucracy and hierarchy. The role of leaders at DataArt is to set the stage for people to make own decisions.
DataArt's Social and Environmental Program, based on our corporate values and the Sustainable Development Goals (SDGs) formulated by the United Nations, is designed to make an impact in the following core areas:
DataArt People

DataArt evolves with its people as a living organism, and its evolution is based on the same laws. The sustainable development and wellbeing of DataArt are supported by strong partnership principles in how we work and how we make decisions on all levels. All our colleagues have equal opportunities to learn, gain experience, and grow. We strive to be an employer and partner of choice.

Equality, Diversity, Inclusion

As a multinational company, DataArt promotes equality, diversity, and inclusion on all levels. We strongly believe that it helps us to better serve a diverse range of customers; retain employees and keep them motivated and happy; prevent bullying, harassment, and discrimination.

Equality

We ensure that all recruiters and interviewers follow our non-discrimination and equal opportunity policies, which apply to newcomers and existing colleagues taking on new roles at DataArt. Our grades system, with a specified skill set and salary level for each grade, helps us to assess all colleagues equally and avoid pay gaps.

Diversity

DataArt promotes gender diversity, closely collaborating with various "Women in IT" initiatives and sponsoring events to attract female IT specialists. Our partners include "Women TechMakers," "Python Community for Women," "Toastmasters International," and "Geek Girls Carrots."

Inclusion

Our corporate culture is all about people and inclusion, where everyone feels valued and is encouraged to share ideas and suggestions with top management. We support our colleagues, regardless of their background or circumstances, to thrive at work.

In December 2020, DataArt was mentioned in Strong Leaders Creator in IT report, in the "Diversity and Inclusion" area, with comments from or leaders included. The full report is available here (in Polish).

Recent statistics show that only around 20% of tech jobs worldwide are occupied by women. At DataArt, women occupy 35.2% of project management roles and represent 31% of the total employee count, with this ratio increasing by 0.5% annually. DataArt has a lower attrition rate for women than the industry average (8.0% as opposed to 10.6% for men).

35.2%

of managerial roles at DataArt are occupied by women

31%

of total jobs at DataArt are occupied by women

8%

attrition rate for jobs occupied by women

Our HR Projects

DataArt Helpline

DataArt genuinely cares about each and every colleague. We believe that workplaces with a high level of mental wellbeing are not only more comfortable to work at but also much more productive.

DataArt Helpline is a corporate service that provides mental health first aid to our team. We have volunteers with a degree in Psychology and vast experience in people management who help colleagues with their concerns, guide them through stressful personal or work-related circumstances, refer to reliable psychotherapists and counselors.

Society and Communities

IT is an amazing industry. We love it and thrive in it. It provides opportunities for professionals to experiment and get new experience and knowledge while being ready for change. DataArt would like more people to enjoy the benefits the industry can bring to their lives. Therefore, we consistently contribute to the education and empowerment of the communities where we operate.

Our Projects for IT Community

Environment

Technology is improving the world, but some of the changes are taking a toll on the environment. At DataArt, we care about the environment and climate change and take responsibility for improving efficiency in our consumption of energy, water, and other natural resources. Our Manifesto is supported by our Social and Environmental Policy and sustainability reports that we regularly share on our websites.

Our Environment Project

Green Office

The objective of the Green Office Initiative is to promote green practices in all DataArt locations across the world, engage all colleagues, and integrate environmental protection into our day-to-day business practices. We implement technically and financially feasible and cost-effective measures for improving efficiency in our consumption of energy, water, as well as other natural resources, waste reduction, and recycling. These guidelines also define the key green principles for various business operations that affect the environment: daily commutes to work and business travel, vendor management and procurement, office renovations and event management, as well as other activities.