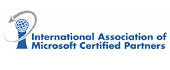 17 February 2006
DataArt Voted One of the World's Top Outsourcing Service Providers by IAOP
DataArt was voted one of the world's top outsourcing providers by the International Association of Outsourcing Professionals (IAOP). The company is selected in The Global Outsourcing 100 list, in the Rising Stars Category.
"Selection to the inaugural Global Outsourcing 100 is an accomplishment that DataArt should be extremely proud of," said Michael Corbett, Executive Director of IAOP. This list of the world's top outsourcing service providers will appear in the April 3, 2006 issue of FORTUNE® Magazine and is available on IAOP's website.
"We are proud and thankful to the outsourcing industry for the recognition of DataArt's position on the market," said Eugene Goland, President of DataArt. "We are also thankful to our clients and partners for helping us better understand the market and to smartly invest into expertise and methodology."
RELATED ARTICLES: