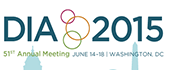 10 June 2015
DataArt to Exhibit Medical Apps at DIA 2015 51st Annual Meeting
NEW YORK – June 14-18, 2015 — The Healthcare & Life Sciences Practice of DataArt, a technology consulting firm that creates end-to-end solutions, will be exhibiting medical application demonstrations at this year's DIA 2015 Annual Meeting. DataArt's Healthcare & Life Sciences Practice team has amassed substantial experience in managing massive quantities of data, delivering data analytics and storage solutions and building SaaS platforms for the healthcare and life sciences space.
The DIA 2015 51st Annual Meeting is the largest multidisciplinary event that brings together a community of life sciences professionals at all levels and across all disciplines. Among key demonstrations, DataArt's Healthcare & Life Sciences Practice will showcase a variety of medical applications including:
ePRO for kids: An electronic patient diary application designed specifically for kids, taking into account the needs of young users and helps them stay motivated throughout clinical trial.
MedAR - An augmented reality application for iPhone and iPad that efficiently recognizes medications and instantly provides a user with relevant information about the medication, including drug facts, uses, directions, links to videos and the manufacturer's website.
Pills Adjutant: A smartwatch and smartphone application that simplifies medication adherence.
Event Details:
Location:
Booth #2639
Walter E. Washington Convention Center
Washington, DC
Date and Time:
June 14-18, 2015
About DataArt:
DataArt (www.dataart.com) is a technology consulting firm that creates end-to-end solutions, from concept and strategy, to design, implementation and support, helping global clients in the financial services, healthcare, hospitality, media and IoT sectors achieve important business outcomes. Rooted in deep domain knowledge and technology expertise, DataArt designs new products, modernizes enterprise systems and provides managed services delivered by outstanding development teams in the U.S., UK, Central and Eastern Europe, and Latin America. As a recognized leader in business and technology services, DataArt has earned the trust of some of the world's leading brands and most discerning clients, including McGraw-Hill Financial, Coller Capital, BankingUp, Ocado, artnet, Betfair, Skyscanner, Collette Vacations, Booker and Charles River Laboratories.