23 November 2015
DataArt Scoops Prestigious "Best Regulatory Reporting Application" Award at Data Management Review Awards
London – November 19, 2015 – Global technology consulting firm DataArt last night defeated stiff competition from contenders, including Sapient Global Markets, Unavista (London Stock Exchange), Wolters Kluwer and Lombard Risk to win the "Best Regulatory Application" award at the 2015 Data Management Review Awards.  The win solidifies the company's role at the forefront of financial data management innovation.
DataArt utilised its extensive experience and understanding of working with the asset management industry to develop the award winning fund management reporting application. The Form PF (Private Fund) and AIFMD (Alternative Investment Fund Managers Directive) reporting application helped users to gear up for the directive's deadline, and was one of the first-to-market solution following the announcement of the new directive and original deadlines for enforcement.  The winning app is an updated version of the original app.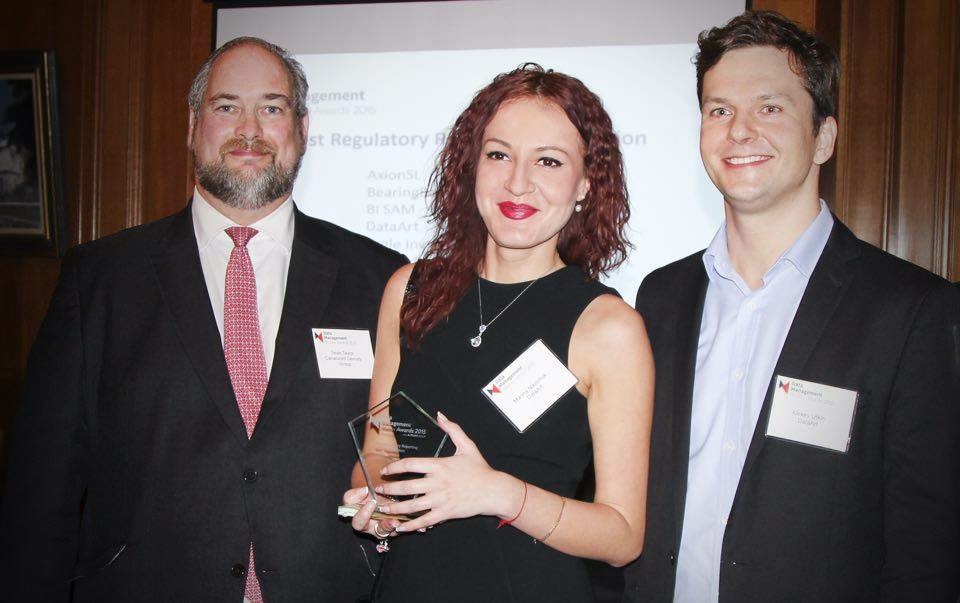 DataArt is now applying the same strengths to work on bespoke solutions to help funds gear up for Markets in Financial Instruments Directive II (MiFID II) and BCBS (Basel Committee on Banking Supervision) 239, devising solutions to help firms efficiently collect, aggregate, validate, govern and report data in accordance with European Securities Markets Authority (ESMA) and Financial Conduct Authority (FCA) requirements.
DataArt UK Financial Services Practice Leader, Alexey Utkin said:
"With MiFID II looming just one or two years away, and more regulations and directives in the pipeline, this award helps demonstrate that DataArt is a key player in enabling companies to prepare for compliance measures."

The announcement that MiFID II will come into effect 03 January 2017, now likely to be extended to the 2018, has left many financial firms scrambling to update their systems to fit within the required regulations.

"Receiving this award is an honour and a testament to the thinking and approach that went into the application," Utkin continued.

"DataArt's technology excellence in the financial data management space allows clients to meet regulatory reporting requirements speedily, enjoying the flexibility of custom solutions. We're perfectly placed to make sure that the financial services industry is sufficiently prepared for MiFID II."
The company aims to bring in the benefits of bespoke solutions, such as flexibility, controlled quality, data and systems landscapes and combine these benefits with those of out-of-the-box products or services such as accelerated time to market and reduced cost. The ability to deliver such solutions in a timely fashion is critically important when dealing with regulations.
Utkin continued:
"Regulatory pressure certainly will be the major driver for the financial services agenda over the past few years. But smart companies are not looking at the regulations in isolation. For them, compliance data can also address the other demands of today, which originate from each individual firm's business strategy.  These include increased appetite for insight, management information, investor reporting, self-service business intelligence, data lineage and analytics, and more timely and granular data delivery.

"Data is transforming business reality for many financial firms. We observe a growing maturity of data management approaches and data is now recognised as a very valuable asset, as is its governance and quality management. The DataArt approach is not to take regulation problems out of the business context, but rather to deliver a solution which is effective in addressing both regulatory and business priorities."
Press Contact
Lief Schneider
+44 (0) 7971 950 899
+44 (0) 207 104 2213
lief@sbc.london
Notes to editors
About DataArt Financial Practice UK, Compliance Work
DataArt's Financial Services Practice is largely focussed on:
New generation data warehouse / business intelligence solutions, which allow financial firms to implement timely and flexible reporting, analytics and visualisations to support decisions and operational processes across all business functions.
Federated master and reference data management systems, which link previously disparate departmental data systems, enabling efficiencies, better products and analytics as well as business benefits such as a single view of a customer.
Innovative data governance solutions that promote a new business culture of data ownership by business stakeholders and make it possible to achieve transparency through data lineage and new levels of data quality.
About the Markets in Financial Instruments Directive II
The Markets in Financial Instruments Directive (MiFID) is the framework of European Union (EU) legislation for:
Investment intermediaries providing services to clients in relation to shares, bonds, units in collective investment schemes and derivatives (collectively 'financial instruments')
The organised trading of financial instruments
MiFID was originally applied in the UK from 1 November 2007. But it is now being comprehensively revised to improve the functioning of financial markets in light of the financial crisis and to strengthen investor protection. The changes were expected to take effect from 3 January 2017 and recently is has been announced that the date is likely to be delayed to 2018. It will be known as MiFID II.
Firms will need to start planning for the changes ahead of the finalisation of the EU implementing legislation and the subsequent changes the Financial Conduct Authority and the Treasury makes to financial services legislation.
MiFID II is a wide-ranging piece of legislation and, depending on business model, could affect a wide range of a firm's functions – from client services to IT and HR systems.
About Alternative Investment Fund Managers Directive (AIFMD)
The Alternative Investment Fund Managers Directive (AIFMD) was transposed into UK law on 22 July 2013.
The scope of the AIFMD is broad and, with a few exceptions, covers the management, administration and marketing of alternative investment funds (AIFs). Its focus is on regulating the Alternative Investment Fund Manager (AIFM) rather than the AIF.
An AIF is a 'collective investment undertaking' that is not subject to the UCITS regime, and includes hedge funds, private equity funds, retail investment funds, investment companies and real estate funds, among others. The AIFMD establishes an EU-wide harmonised framework for monitoring and supervising risks posed by AIFMs and the AIFs they manage, and for strengthening the internal market in alternative funds. The Directive also includes new requirements for firms acting as a depositary for an AIF.
About Form PF
Form PF (private fund) is an SEC rule that requires private fund advisers to report regulatory assets under management, dubbed RAUM, to the Financial Stability Oversight Council (FSOC), an organization established under Dodd-Frank in order to monitor risks within the financial sector.
About BCBS 239
BCBS 239 is a compliance directive set out by the Basel Committee on Banking Supervision.
The directive introduces 14 principles with which banks must comply within three years of being designated as a global or domestic SIB. These principles include "Completeness," "Timeliness" and "Adaptability."
About DataArt
DataArt is a technology consulting firm that creates end-to-end solutions, from concept and strategy, to design, implementation and support, helping global clients in the financial services, healthcare, hospitality, media and IoT sectors achieve important business outcomes. Rooted in deep domain knowledge and technology expertise, DataArt designs new products, modernizes enterprise systems and provides managed services delivered by outstanding development teams in the U.S., UK, Central and Eastern Europe, and Latin America. As a recognized leader in business and technology services, DataArt has earned the trust of some of the world's leading brands and most discerning clients, including McGraw-Hill Financial, Coller Capital, BankingUp, Ocado, artnet, Betfair, SkyScanner, Collette Vacations, Booker and Charles River Laboratories.