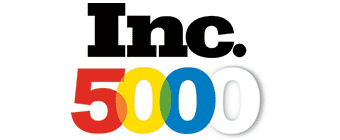 17 August 2016
DataArt Ranks in the INC. 5000 List of the Fastest-Growing Private U.S. Companies for the Seventh Consecutive Year
NEW YORK, August 17, 2016 – DataArt, the global technology consulting firm that creates end-to-end solutions, today announced that it has been listed in the annual Inc. 500 I 5000 List of the U.S. fastest-growing private companies for the seventh year in a row.
DataArt's consistently impressive ranking reflects the company's long-term ability to deliver for clients on complex technological projects, resulting in 133% revenue growth over the last three years, and continued global expansion, with new offices in Western Europe and Latin America.
Operating from 17 global locations across three continents, DataArt has established itself as a leading consulting authority on a wide-range of technologies, taking innovative approaches to areas including blockchain, artificial intelligence, and cloud solutions. The DataArt approach helps clients to move quickly and effectively to make and maintain market-leading positions.
"DataArt's ideas sharing approach and corporate culture enables our people to work in partnership with our clients, delivering consistent results," said Eugene Goland, President of DataArt. "Our growth has now been repeated year on year for seven years. We believe it comes from retaining our core values: commitment to client service, innovation and delivery of high quality solutions."
"The story of this year's Inc. 5000 is the story of great leadership. In an incredibly competitive business landscape, it takes something extraordinary to take your company to the top," said Inc. President and Editor-In-Chief Eric Schurenberg. "You have to remember that the average company on the Inc. 5000 grew nearly six-fold since 2012. Business owners don't achieve that kind of success by accident."
About DataArt
DataArt is a global network of technology consulting and software services firms that creates end-to-end solutions, from concept and strategy, to design, implementation and support, helping global clients in the financial services, healthcare, hospitality, media, telecom, and IoT sectors achieve important business outcomes. Rooted in deep domain knowledge and technology expertise, DataArt designs new products, modernizes enterprise systems and provides managed services delivered by outstanding development teams in the U.S., UK, Central and Eastern Europe, and Latin America. As a recognized leader in business and technology services, DataArt has earned the trust of some of the world's leading brands and most discerning clients, including McGraw-Hill Financial, Coller Capital, BankingUp, Ocado, artnet, Betfair, Skyscanner, Collette Vacations, Booker and Charles River Laboratories.
About Inc. Media:
Founded in 1979 and acquired in 2005 by Mansueto Ventures, Inc. is the only major brand dedicated exclusively to owners and managers of growing private companies, with the aim to deliver real solutions for today's innovative company builders. Winner of the National Magazine Award for General Excellence in both 2014 and 2012. Total monthly audience reach for the brand has grown significantly from 2,000,000 in 2010 to over 13,000,000 today. For more information, visit www.inc.com.
The Inc. 500|5000 is a list of the fastest-growing private companies in the nation. Started in 1982, this prestigious list of the nation's most successful private companies has become the hallmark of entrepreneurial success. The Inc. 5000 Conference & Awards Ceremony is an annual event that celebrates their remarkable achievements. The event also offers informative workshops, celebrated keynote speakers, and evening functions.
Media Contact:
Vica Miller
+1-212-378-4108 x. 4014
vica@dataart.com