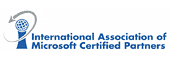 10 January 2006
DataArt Joins International Association of Microsoft Certified Partners
DataArt joined International Association of Microsoft Certified Partners (IAMCP) which has recently opened its new branch in Russia. The first business meeting of IAMCP Russia representatives took place in Moscow.
IAMCP's goal is to unite its partners worldwide. The association provides a great possibility for DataArt to grow its business. As an IMCP member, DataArt will help building a close relationship with Microsoft Certified Partner and Microsoft Business Solutions Partner communities. Using their experience and knowledge base will allow DataArt to continue strengthening its own service offerings.
"Launching International Association of Microsoft Certified Partners in Russia gives Russian companies access not only to the international network of Microsoft partners, but also a chance to demonstrate their own expertise, both at home and to foreign markets", said Vitaly Ozhigov, manager for joined IAMCP companies-partners in Russia.
"DataArt has long been a Microsoft Certified Solutions partner, and joining the newly formed association was a natural step," said Alexander Makeyenkov, head of DataArt Finance, "We look forward to expanding our network of business partners and experts".
RELATED ARTICLES: