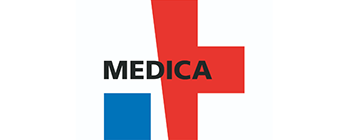 9 November 2018
DataArt Executives to Speak at MEDICA 2018
Düsseldorf, Germany, November 12-15, 2018 — DataArt and Atlantic Therapeutics executives will speak about the digital transformation journey of a global Medical Device company at MEDICA on November 13, 2018 in Düsseldorf.
MEDICA is the world's leading medical trade fair which attracts over 5,000 exhibitors from around 70 countries. This year MEDICA will reflect the worldwide trend of digitalization within the healthcare industry with a focus on start-ups.
"Join us for an interactive conversation to learn more about Atlantic Therapeutics and DataArt's journey and expertise in producing and developing wearable devices, using the latest technological innovations." – Julie Pelta, Director of Business Development at DataArt.
EVENT DETAILS
Digital Transformation Journey of a Global Medical Device Company
Date and time:
November 13, 2018
12:20 – 12:40
Hall 15, booth C24
Location:
Messe Düsseldorf, Arena-Straße, 40474 Düsseldorf, Germany
About the Speakers:
Julie Pelta, Director of Business Development, DataArt
Julie has spent over 20 years in the UK healthcare working with Med-Tech product and service companies, including Johnson and Johnson in a range of sales, marketing and leadership roles. Her experience ranges from product innovation, delivering enhanced patient outcomes to digital service innovation. Julie joined DataArt in 2016 initially as an advisor and more recently as Director of Business Development for DataArt's Healthcare and Life Sciences division, her aim is to establish rapport with industry leading organizations in the UK and help DataArt clients embrace Digital Health innovations.
Vladimir Timashov, Delivery Manager, Healthcare & Life Sciences, DataArt
Vladimir joined DataArt in 2012 as a Project/Delivery Manager, and was in charge of a number of DataArt's key projects in the Healthcare and Life Sciences sector. He leads the Medical Device competence in DataArt. Prior to joining DataArt, he was head of an engineering team in a global company focused on developing laboratory information systems for major US genetics laboratories.
Graham Lay, CTO, Atlantic Therapeutics
Graham is a Business/Development Consultant with over 25 years of broad business experience working throughout UK, Europe and North America. He is a CTO at Atlantic Therapeutics, and is responsible for the oversight/management of the continuing development of the INNOVO product range, a unique product range enabling reduction and minimization of incontinence due to weakened pelvic floor muscles.
About DataArt:
DataArt is a global technology consultancy that designs, develops and supports unique software solutions, helping clients take their businesses forward. Recognized for their deep domain expertise and superior technical talent, DataArt teams create new products and modernize complex legacy systems that affect technology transformation in select industries.
DataArt has earned the trust of some of the world's leading brands and most discerning clients, including Nasdaq, S&P, Travelport, Ocado, artnet, Betfair, and Apple Leisure Group among others. Organized as a global network of technology services firms, DataArt brings together expertise of over 2,500 professionals in 20 locations in the US, Europe, and Latin America.
Media Contact:
USA, UK & Germany
Anni Tabagua
+49 (89) 635 091 28 × 1297
anni.tabagua@dataart.com