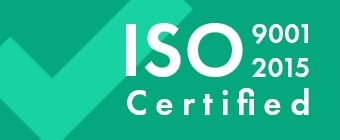 22 May 2019
DataArt Achieves ISO 9001 Certification for Software Design and Development
New York, May 22, 2019 — DataArt, the global technology consultancy that designs, develops and supports unique software solutions today announced that it has achieved ISO 9001 certification for software design and development.
The ISO 9001:2015 is an international standard for quality management systems (QMS) maintained by the International Organization for Standardization (ISO), a global network of national standards bodies.
To acquire ISO 9001:2015 certification, businesses must go through a rigorous independent audit and demonstrate the ability to consistently provide products and services that are safe, reliable and of good quality. The ISO certification adds to DataArt's long list of achievements and is a testament to DataArt's commitment to excellence in delivering consistent, reliable and high-quality solutions for customers.
Alexei Miller, Managing Director, DataArt, said:
"At DataArt, we pride ourselves in consistently providing high quality business technology solutions, superior technical talent, and deep domain expertise to our customers. Achieving ISO 9001:2015 certification represents another milestone for DataArt, reflecting our organizational reliability and security in the industry to our partners and customers."
About DataArt:
DataArt is a global technology consultancy that designs, develops and supports unique software solutions, helping clients take their businesses forward. Recognized for their deep domain expertise and superior technical talent, DataArt teams create new products and modernize complex legacy systems that affect technology transformation in select industries.
DataArt has earned the trust of some of the world's leading brands and most discerning clients, including Nasdaq, Travelport, Ocado, Centrica/Hive, BetfairPaddyPower, IWG, Univision, Meetup and Apple Leisure Group among others. DataArt brings together expertise of over 2,800 professionals in 22 locations in the US, Europe, and Latin America.
Media Contact:
Ghillie Little