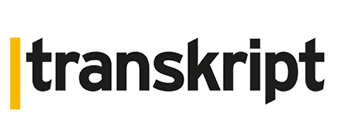 30 November 2017
Competition
Transcript, a German pharmaceutical magazine, runs the announcement of DataArt winning the 2017 Pfizer Healthcare Challenge award in Munich.
"How to remind children to take their medication in a playful manner? How to accompany them in their cancer therapy? Solutions to these issues were demonstrated by the winners of this year's Pfizer Healthcare Hub in mid November as DataArt and Tommi presented compelling gamification approaches."
This article is only available in print.